Kean University Coastal Team to Tackle Environmental Issues Along the Shore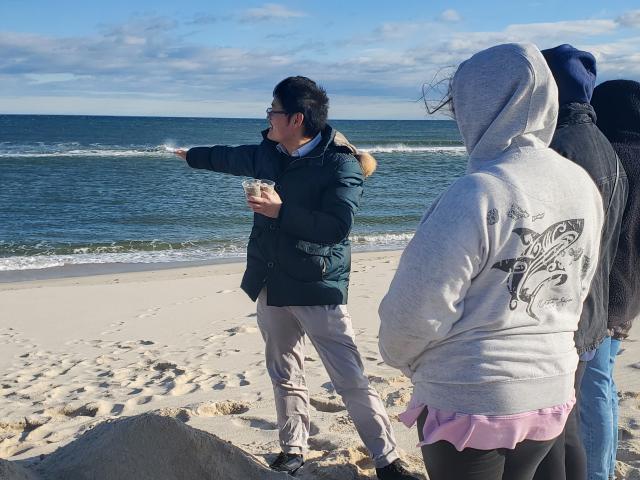 A new research team created at Kean University will focus on environmental issues in the state's coastal communities, part of the University's mission as New Jersey's urban research university. 
The new Kean coastal team will study and propose solutions to challenges stemming from climate change and other environmental pressures. It is housed in the Department of Environmental and Sustainability Sciences (DESS) and involves faculty and students at Kean's main campus in Union and Kean Ocean in Toms River. 
The team's first project is slated to get underway this spring on site in Keyport, on Raritan Bay in Monmouth County. 
"Kean's expert faculty in environmental and sustainability sciences are ideally suited to work with Keyport on its environmental challenges, many of which are being felt by other beach towns," said Kean President Lamont O. Repollet, Ed.D. "This work strongly contributes to our mission as an urban research university."
Kean last year was named the state's urban research university. The University is also working toward designation by the Carnegie Commission as a national R2 Research University. 
A one-square-mile community of about 7,200 residents that was heavily damaged by Superstorm Sandy, Keyport was selected as the coastal team's first project. In addition to being vulnerable to storms, Keyport has a former landfill near the shoreline, and the town's watershed connects to both Raritan and Sandy Hook bays.
"Kean is strategically located near the New Jersey shoreline area, and the faculty are excited to focus our research on pressing issues that face the environment and society today," said Daniela Shebitz, Ph.D., chair of DESS. "We are working to help generate an understanding of the effects of urban development and climate change on coastal environments and on the communities that rely on the shore as their home and for their livelihood."
The Keyport mayor and council in December adopted a resolution supporting Kean's project. Former Keyport Mayor Collette Kennedy, who was in office when the agreement was formulated and signed, said there are many efforts currently underway to improve the Raritan Bay, which will provide "faculty members looking to get their feet wet with plenty of opportunities for research projects."
The coastal team is also seeking to work with Barnegat Bay Partnership in Ocean County, and address environmental issues facing the bay, Shebitz said.
Kean Assistant Professor Jun Cheng, Ph.D., teaches both at Kean Union and Kean Ocean, and recently took a group of Kean Ocean students to Island Beach State Park as part of their study of coastal environments. Students in a class at Kean Union are working on the Keyport project this semester.
Cheng said students are engaged by coastal study, including fieldwork and research.
"Kean University is located in a densely populated coastal area and has great potential to resolve our critical coastal problems," Cheng said, adding that as an interdisciplinary department, DESS can address ecology, coastal geology, marine organic geochemistry, and more.
Other members of the coastal team are Assistant Professor Shuting Liu, Ph.D., an expert in water quality, and Equity in Action Post-doctoral Fellow Galia Shokry, Ph.D., specializing in environmental justice. 
The coastal environmental work can also benefit students long-term. "There are plenty of job opportunities in addressing coastal issues here in New Jersey," Cheng said.
Shalini Katwal of Woodbridge, a junior earth science major at Kean Union, is one of the students working on the coastal research project.
"I am taking part mainly to ensure the safety of the environment," Katwal said. "This is only the start of my journey to provide for our community and our environment."