Kean University Joins Statewide Initiative to Bring New Jersey College Students Home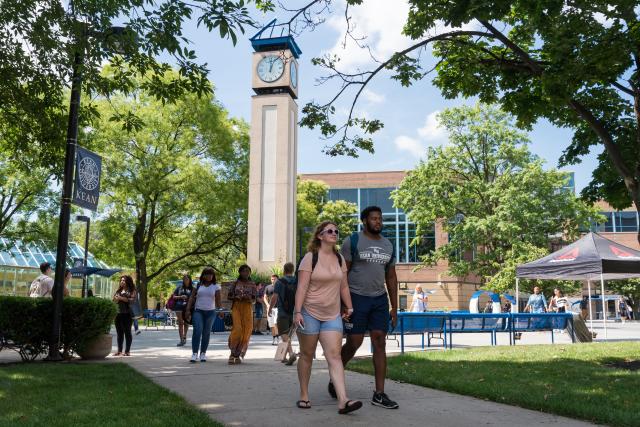 Kean University has joined nine other New Jersey public universities and colleges in issuing a call for the 120,000 state residents who attend higher education institutions out of state to transfer to a New Jersey school and help rebuild the state as a part of a new Scholar Corps program.
Under the NJ Come Home program announced on May 5, the institutions will accept credits earned with a grade of C or better from an accredited out-of-state college or university, promise an efficient review of applications and offer housing, where available, based on availability at the time the student commits.

"New Jersey needs your energy, your intelligence, and your commitment," the presidents wrote in a joint statement. "This is an unprecedented period in our history, a time that calls for everyday heroes to show up and give back. Think of the Peace Corps and AmeriCorps. Think of those natural disasters and crises when young people turned out to fight for what's right, to push us toward a hopeful future."
Kean President Dawood Farahi, Ph.D., said Kean is proud to be part of the important initiative. "Kean is recognized for its dedication to serving transfer students and ensuring they have access to a world-class education at an affordable price," he said. 
"We look forward to welcoming NJ Come Home students to our campus and joining with them in community service projects that will help rebuild and revitalize our great state," Farahi said. 
Kean Vice President of Enrollment Services Marsha McCarthy said that the NJ Come Home and the New Jersey Scholar Corps initiatives give students an unprecedented opportunity to lend their energy and public service to their community, while completing their education closer to home in uncertain times.
"Kean is a founding member of the Phi Theta Kappa Transfer Honor Roll in recognition of the University's focus on making the transfer process easy and welcoming," she said. "We are ready to assist any New Jersey college student who wants to come home and share in Kean Cougar pride. Transfer students who embrace a wonderfully diverse campus with a culture of caring will find a welcoming home at Kean."
As New Jersey seeks to recover from the most devastating effects of the coronavirus outbreak, the state will need more bright, talented young people to help rebuild its businesses, nonprofits, schools and health system.
An estimated 33,000 residents leave New Jersey each year to attend a college or university in another state. The presidents of the participating public colleges and universities have partnered to offer a unique incentive for them to return home.
The New Jersey Scholar Corps program at Kean will provide students with volunteer opportunities through Kean's Center for Leadership and Service to serve their local communities while gaining valuable experience and building their professional networks.
"The Kean University community has a longstanding commitment to service and making the world around us a better place. Whatever the need, our students are eager to answer the call to serve," said Scott K. Snowden, Kean assistant vice president for student affairs, who earned both his bachelor and master's degrees in public administration at Kean. "Our students have been recognized on the local, regional and national levels for their compassion and volunteerism. The new NJ Scholar Corps will be a natural fit for the work we have been doing. "
In addition to Kean University, the participating institutions are Montclair State University, New Jersey City University, the New Jersey Institute of Technology, Ramapo College, Rowan University, Stockton University, The College of New Jersey, Thomas Edison State University, and William Paterson University.
Find out more about Kean's program at Kean's NJ Come Home webpage.
Learn more about the statewide initiative at NJComeHome.org. 
Tagged