Keanu's Kitchen Revamped and Open for Dining on Kean's Main Campus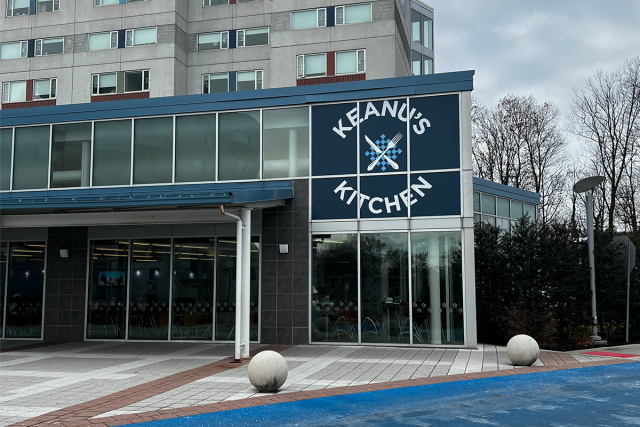 Keanu's Kitchen, a dining hall on Kean University's Union campus, has been reimagined and is now offering new features for students and employees, including a personalized approach to dining, new menu items and expanded hours.
Formerly known as the New Upperclassmen Residence Dining Hall, Keanu's Kitchen is named after the Kean Cougar mascot. It has been reinvented to be inviting to everyone, including commuter students, many of whom did not realize they may purchase meal plans.
Keanu's Kitchen is now open from 7am to midnight, seven days a week, offering a variety of "all-you-care-to-eat" foods including new healthy, vegan, halal, plant-based and gluten-free options. Other changes include a new takeout system, discount opportunities, and more.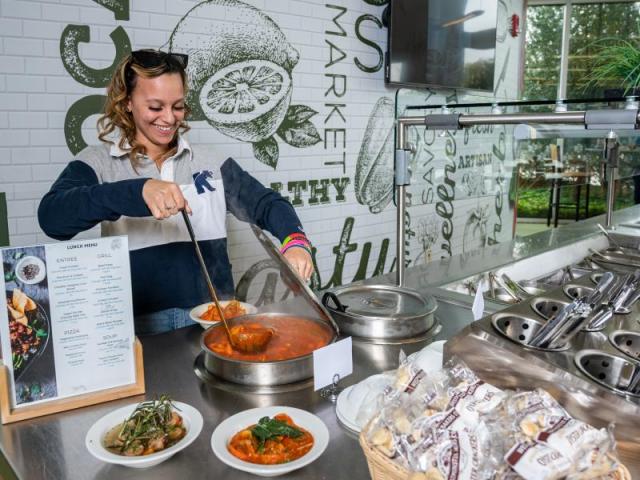 Requests for additional campus dining options came up at President Lamont Repollet's student town halls and in a dining survey of students. The President's Advisory Council, a student group, and the Student Government Association both provided input.  
"We heard from students at President Repollet's town halls and through our Campus Dining Survey that they wanted changes at the dining halls, and we are responding," said Andrew Brannen, Kean's chief financial officer. "There is more to come too, as we make dining on campus more convenient and more enjoyable for students, faculty and staff."
For diners with dietary restrictions due to allergies, a new allergen-free station that avoids cross contamination from nine key food allergens – milk, eggs, fish, Crustacean shellfish, tree nuts, peanuts, wheat, sesame and soybeans – is now open. In addition, an on-site dietician is available to consult with students and employees in person or via Zoom. 
More technology is on the way this spring to expedite ordering, including kiosks for placing orders at the Grill and Exhibition stations.
"Keanu's Kitchen offers all-day access to great quality food and options that fit every student's needs," said Orley Wainberg, Kean assistant vice president of business affairs. "It offers a lively social environment, a feeling of belonging and the comfort of students' home kitchens."
Diners can now create a festive atmosphere, using the new RockBot app, a "jukebox" app that lets diners choose music to play throughout the dining area; a new takeout system also lets diners bring food back to residence halls or offices. 
Discounts are part of the retooling, too. In November, "50% Fridays" began at lunchtime, offering students, faculty and staff meals for $5.85.
Matthew Caruso, vice president for student affairs, said feedback from students has been "overwhelmingly positive."
"From the made-to-order grill items to the vegan options, Keanu's Kitchen has something for everyone. And the value, especially on Fridays with 50% off lunch, cannot be matched anywhere in the area," Caruso said.  "The student leaders from PAC and the Student Government Association should be commended for the work that they put in to make this happen."
Ben Lorec, a junior from Piscataway who is studying criminal justice, said he likes the foods made to order. 
"They'll ask you if there's anything extra you want. They will always make it the way you want it, and I appreciate that," he said.
Hannah Tull, a senior interior design major from Sicklerville, said food on the go has helped her manage her busy schedule.
"The to-go containers are the best decision. It works for someone who is trying to meet friends on campus or someone like me who is constantly moving and studying. It offers options for both sides," she said.
Next on the menu, Kean is considering changes to the Miron Student Center Food Court.
"We recently distributed a campus dining survey to help us assess the changes we have made to Keanu's Kitchen and get invaluable student feedback as we look to reimagine the future of the Miron food court," Wainberg said. "Our goal is to create the best dining experience we can for our entire campus community."
Tagged