A Move-in Day of Excitement and Possibility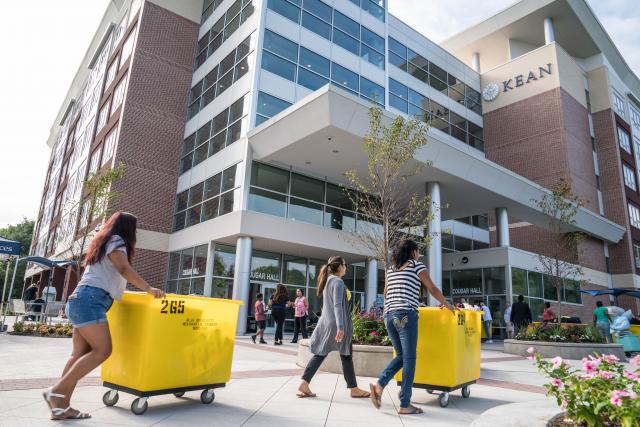 Excited students, tearful parents and rolling yellow bins took over Kean's main campus in the days before the start of the Fall semester as approximately 2,100 students moved in to the University's seven residence halls.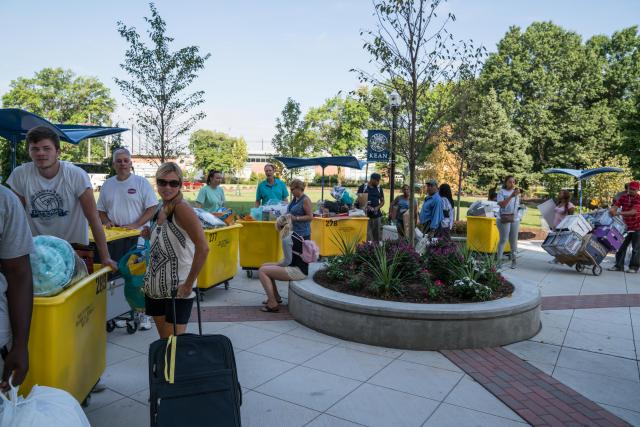 The students and their families pushed, pulled and coaxed bins overflowing with belongings from parking lots to residence halls during freshman Move-in Day on Sunday, September 2. The scene was repeated the following day, when upperclassmen moved back on campus. Nearly half of Kean's freshmen — and about 13 percent of the University's entire student body — live on campus.
Chelsey Cedano from West New York was one of the freshmen moving in to Kean's newest residence hall, Cougar Hall.
"I'm looking forward to new experiences," said the criminal justice major. "I get to be on campus all the time. I want to be involved, so living on campus is the perfect way to be involved."
Studies show that students who live on campus outperform commuters in the classroom. But for the freshman students new to Kean, campus life also offers a chance to branch out, and perhaps even reinvent themselves after high school.
"I want to meet all different types of people," said Arienne Sauvignon-Howard from Boston, who is studying athletic training and will play basketball at Kean. "At home, I am kind of quiet, so I want to open up more and try new things."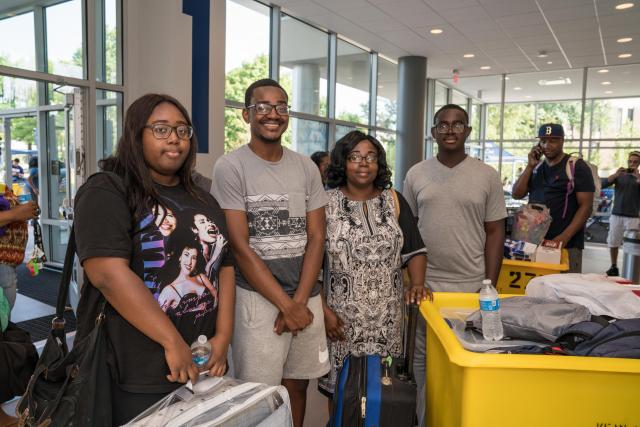 Students reported that the move-in itself was smooth, but getting ready for the big day was stressful. Liana Torres, a freshman from Sayreville, said one question weighed on her mind.
"I wondered how many clothes I should bring and if I should bring my seasonal clothes now or my winter clothes now. That was a lot," she said. "But I decided to bring everything."
For parents of freshmen, the move was fraught with emotion.
"One parent said to me that she doesn't want to let go, but she is excited that her daughter is starting a new chapter in her life," said Maximina Rivera, Kean's assistant vice president for residential student services. "So we had that wonderful conversation."
The students recognize the opportunities that Kean offers.
"I am kind of proud that I completed one part of my life," said Benjamin Rockson of Hillside. "And I'm ready to start the next one."
Tagged