Learn How to Save a Life at Kean's EMS Training Center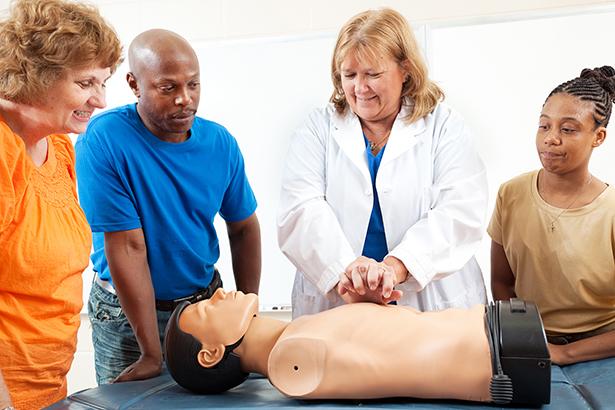 Become certified in CPR or basic life support in as little as one day at the Emergency Medical Services (EMS) Training Center at Kean University. Courses are designed for individuals, caregivers and new or advanced healthcare professionals looking to get their certification or to increase their understanding of cardiopulmonary resuscitation (CPR) and first aid. 
Kean's EMS Training Center is accredited by the American Heart Association (AHA) and Emergency Care and Safety Institute (ECSI) and offers courses in CPR and automated external defibrillator (AED), first aid, life support and safety. All participants earn a course-completion certificate.
Upcoming one-day course offerings include:
AHA Basic Life Support
Learn the foundations for administering CPR to save lives when a person goes into cardiac arrest. This course teaches single-rescuer and team-based basic life support skills for application in pre-hospital and in-facility environments, with a focus on high-quality CPR and team dynamics. Fee is $75 ($25 for Kean). 
This course is being offered on Sundays, December 1, 15 and 29.
AHA Heartsaver CPR/AED
Learn how to administer CPR and use an AED in an emergency, including the proper steps and recovery procedures to take in different situations. This course teaches how to rescue choking infants, children and adults through the use of CPR and AED. Fee is $90 ($35 for Kean).
This course is being offered on Sunday, December 8.
All sessions will be held from 11 a.m. to 3 p.m. at the Nathan Weiss Graduate College, located at 215 North Avenue in Hillside, N.J. Venue is wheelchair accessible. 
For more information or to register, visit www.kean.edu/emstraining, call (908) 737-3820, email emstraining@kean.edu.