LinkedIn Learning Provides Online Courses to Kean Community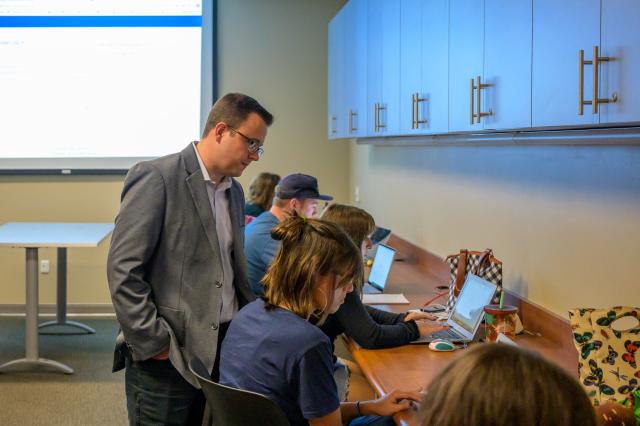 Kean students, faculty and staff have the opportunity to learn everything from technical skills to social media content marketing and creating the perfect "elevator pitch" through an online educational tool called LinkedIn Learning. 
The service, which was formerly Lynda.com, features online videos that provide content for more than 14,000 courses. Some Kean professors are using the service to augment classroom instruction or as homework. 
Access to the online courses is available at https://lnkd.in/d4Qm-gv. Users will be prompted to log in with KeanGoogle credentials, then will go through the setup process, including connecting a current LinkedIn account if the user already has one. There is no charge for Kean students, faculty and staff. 
Associate Professor Ed Johnston, who teaches experience design and motion graphics in the Robert Busch School of Design within Michael Graves College, uses LinkedIn Learning in his classes. He assigns videos for the class to watch while he meets individually with students and assigns LinkedIn Learning videos as homework, sometimes having students present on the topics in class.
During a recent class, Johnston walked his students through the process of logging on, then the class watched a video on user interface foundations. 
LinkedIn Learning provides a "library of knowledge," he said. If a student wants to explore a specific technique or area in more depth, he can direct them to specific videos and follow up with any questions. 
"It empowers the students to help direct their learning, and it enables students to shape positive learning habits for the future," Johnston said. "I've had students report back that they enjoy being able to watch technique directly on the screen, rather than reading about it in a book."
Users can also update their own LinkedIn profiles when they complete a course.
"It's cool that you can add certifications," said senior Gianna Azzinnari, a graphic design major.
Corey S. Vigdor, acting associate dean of the Kean School of Online Learning, said LinkedIn Learning is available to all Kean students, faculty and staff at all Kean locations, including Wenzhou-Kean University. "There really is something for everyone in there," he said.