Miron Student Center Renovations Designed to Improve the 'Heart of Campus'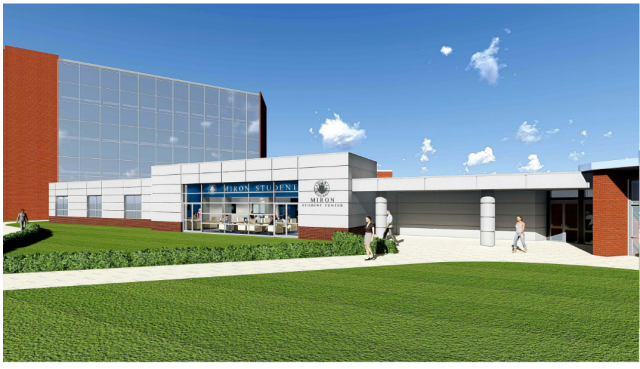 Work began this week on a series of renovations at Miron Student Center that will provide more space for student programs, updated restrooms and hallways, and an international food station in the Food Court.
The renovations, which will take place in stages and which are expected to be finished by January 2020, are designed to improve the facility for students.
"Miron Student Center is a big part of the student experience here at Kean," said Janice Murray-Laury, Kean vice president for student affairs. "It's where students gather for clubs and organizations, to socialize, and to grab a bite to eat. These renovations will make it a better spot for all of those activities."
The construction projects are scheduled to minimize the impact on campus with much of the work taking place this summer. The largest piece of the project is the expansion of the Greek Lounge and MSC administrative offices. The Greek Lounge will double in size, allowing for more program space.
"We call Miron Student Center the heart of the campus," said Felice Vazquez, Kean vice president for planning. "And we want the heart of our campus to have the best facilities for our students so they can engage with others and have an overall stronger student experience."
The original section of MSC, including the Food Court, Greek Lounge, Cougar's Den and hallways, was built in the mid-1960s. The atrium section and the floors surrounding it were added in 1993-94, said Kerrin Lyles, director of MSC.
Workers on Monday moved equipment and prepared for construction in the Greek Lounge, which is expected to be done by January. Student programs that were scheduled to use the lounge for the remainder of the semester have been relocated to different spaces.
The main hallway corridor tiling will be replaced after the Greek Lounge is completed. The construction schedule calls for restrooms to be renovated over the summer, with different areas staggered so there will always be restrooms open in MSC. Also this summer, an international food station will be added to the Food Court at the request of students.
"We want to be sure we are being attentive to the vast diversity we have on campus," Lyles said. "Everything we do is for the students."
Several students said they were pleased by the coming changes -- especially the new culinary station.
"The international food will definitely be a nice touch," said Jaywong Brown, a junior criminal justice major who lives on campus.
Breanna Palzer, a junior journalism major who also lives on campus and who works at MSC, gave her approval as well.
"I think it's pretty nice," she said. "It's very cool that they're adding more stuff for the students."