New Freshman Research Initiative to Launch at Kean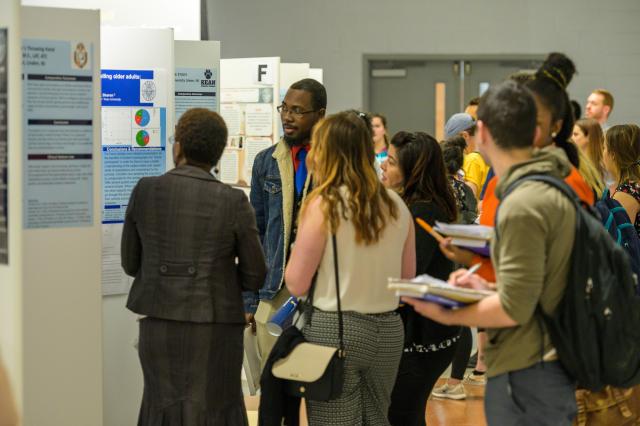 Kean University is heightening its focus on undergraduate research by introducing a new Freshman Research Initiative that will involve students in high-quality research during their first year on campus.
The initiative will be part of a new Center for Undergraduate Research, a "go-to" center where students throughout their academic journey at Kean can learn how to take part in research, creative projects and other academic opportunities. Both projects launch in the spring.
The Freshman Research Initiative will introduce students to faculty-mentored research early in their academic careers as a way of deepening their learning, developing critical thinking and innovation skills, and contributing to students' future success at Kean and beyond. All freshmen who successfully complete a research project will receive a $200 stipend.
"Research opportunities are one of the most important things we offer our students and this new initiative will bring students into that process even earlier in their academic careers," said Kean President Dawood Farahi, Ph.D. "Based on extensive research, we know participation in undergraduate research and creative projects contributes to student success. It is an important predictor of retention, graduation and career success. 
"Our goal is to enable as many Kean students as possible to take part in this work," Farahi said.
The new Center for Undergraduate Research, which will open on the third floor of the Nancy Thompson Learning Commons, will provide a central place for students to learn about research opportunities.
The Freshman Research Initiative is open to students who have completed 15 credits. It will be the first step on a "pathway" within the Center for Undergraduate Research that can lead students to take part in Research Recruits -- a sophomore year program -- then summer research; grant-supported programs such as McNair Scholars; publishing in the KeanQuest academic journal; and eventually applying for national fellowships.
Research opportunities touch on almost any topic area. Current faculty-mentored projects at Kean include writing a theater script for high school audiences to help build empathy; creating a virtual and augmented reality experience at the residence of late artist/designer Michael Graves; researching reading among preschool children; and documenting how rock band activities impact the lives of special-needs adults.
"The Freshman Research Initiative is a unique opportunity. Universities with extensive undergraduate research programs typically involve juniors and seniors, but not freshmen," said Susan Gannon, director of the Office of Research and Sponsored Programs.
Freshmen will also be encouraged to present at Kean's Research Days, an annual showcase of  student research projects. Last year, 1,076 students and 155 faculty members participated in Kean USA Research Days, with another 400 students at Wenzhou-Kean University in China.
"Many students who have presented at Kean Research Days have gone on to present at regional and national conferences, then continued their studies at some of the most prestigious universities in the world -- such as Brown, Yale, MIT, Johns Hopkins and more," said Jeffrey H. Toney, Ph.D., Kean Provost and Vice President of Research and Faculty. "Ultimately, students participating in research learn how to become creative problem solvers, effective team players and communicators, qualities that are critical for career success in any field."
Justine Burnett of Woodbridge, a junior transfer student with a double major in environmental and sustainability science; and Symone Gelay of Brick, a junior forensic psychology major minoring in criminal justice and American Sign Language; both conduct research at Kean. Both said they wish they could have started as freshmen.
"I would have greatly appreciated a program like this one in my freshman year and happily taken part," said Gelay, who is researching diagnostic labeling and its effect on sentencing in juvenile court cases. She and her mentor are creating a mock trial scenario for the project.  
Burnett is in the midst of two projects -- one a Life Cycle Assessment (LCA) on algal biofuel, and one an investigation into biochar (burnt organic matter) as a potential heavy metal remediation technique. She said research gives experience that she would not get in a classroom.
"Based on personal experience and the experiences of friends and family, employers and grad school admissions look to see if you have any research experience in your field of interest," she said. "Having this experience can potentially be the deciding factor of your acceptance."
Tagged