New Research Expands Information Technology Curriculum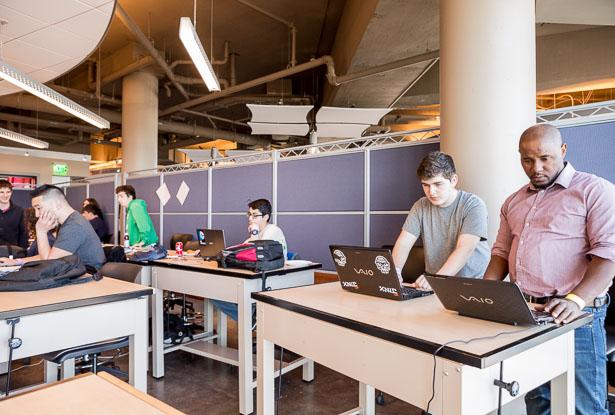 Computer science professor Malcolm Wabara is working this summer to further develop Kean's online course offerings.
Using his expertise in computer programming, digital imaging and design, Wabara is working to support and expand Kean's M.S. Computer Information Systems program and enhance the B.S. Information Technology curriculum through online course development, motion control research, augmented reality eye wear technology research and mobile application development.
The variety and complexity of the student work Wabara encounters through his work at HackKean and with students in his Senior Capstone course, serves as an ongoing source of inspiration for the educator.
"Kean's CS and IT majors are very creative," said Wabara. "I look forward to seeing what they'll create with the new languages and eyewear."
Wabara is currently conducting research on the Leap Motion controller. The device's patented motion control technology uses infrared sensors to recognize human hand gestures such as pointing and swiping. Using Leap Motion's JavaScript API (Application Programming Interface), Wabara is developing gesture driven web applications, which he plans to implement in his undergraduate Virtual Reality & Augmented Reality course (TECH 3640) at Kean this fall.
Augmented reality superimposes or overlays computer graphics on smartphone or smart eyewear, like Google Glass and Epson's Moverio, screens. Wabara is preparing to study the Epson Moverio eyeware SDK for mobile app development.  His research findings will be applied to his courses.
Kean is launching an M.S. in Computer Information Science this Fall. The program will include a Mobile Application Development course, that will take IT majors through the process of mobile application design – from initial concept, prototype development and testing to launching a working app.
For more information about Kean University's Department of Computer Science, please visit www.kean.edu/~compsci.  Additional information about the M.S. Computer Information Systems degree can be found at online.kean.edu/ .
Tagged