NJ Senate President Scutari Honored at Kean Gala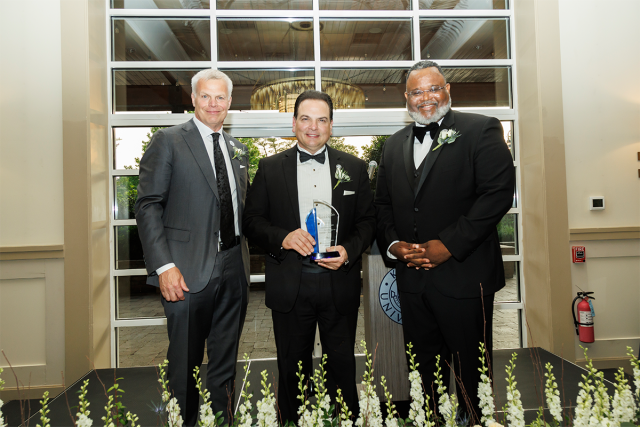 Hundreds of supporters, friends and alumni of Kean University attended the University's recent 23rd annual fundraising gala to celebrate New Jersey Senate President Nicholas P. Scutari, a 1989 Kean graduate who was honored at the event.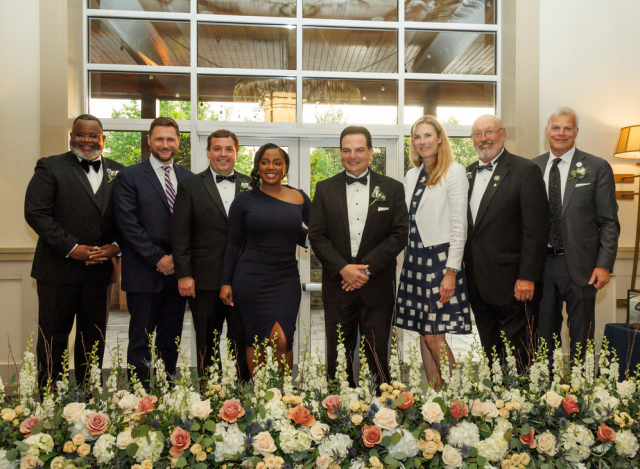 Kean President Lamont O. Repollet, Ed.D., announced a donation from Amazon, part of which will be used for a scholarship in Scutari's name.
"Senate President Scutari is a tireless champion for the State of New Jersey and Kean University. His leadership in the legislature has helped Kean reach new heights as the state's urban research university," Repollet said at Stone House at Stirling Ridge in Warren. "Amazon's support for the Nicholas P. Scutari Service Scholarship at Kean is a fitting tribute to this proud Kean alumnus. We are so grateful for this generous donation, which will help Kean students climb higher on their paths to success." 
Repollet also presented Scutari with Kean's William Livingston Award for his exceptional service to the University and the State of New Jersey. 
Scutari called it a humbling experience. In emotional remarks to the audience of supporters and wellwishers, the senate president thanked Kean University for its mission of affordability, accessibility and excellence in higher education.
"The work you've done is important," Scutari said. "The introduction of young minds into our society is so important. Kean fills a void that no one else can do. College is not attainable for so many kids in this area, and I was just one of them. It has afforded me amazing opportunities. My life has been quite a dream."
William H. Miller, chief executive officer of the Kean University Foundation, a nonprofit organization that raises money to benefit Kean's students, faculty, programs and facilities, called Scutari a "steadfast friend to the University."
"Senator Scutari is a model of achievement and devotion to community service for all Kean students and alumni," Miller said. "He is living proof of how far a Kean University degree can take you, and why it is so vital to support the University's mission."
Amazon officials were at the gala to help make the scholarship announcement.
"We're proud to be in New Jersey and support Kean University and its students. The Nicholas Scutari Scholarship Fund is a great initiative and one that will directly benefit ambitious Kean students eager to advance their learning. At Amazon, we firmly believe in the power of education to transform lives and are excited to be involved in this partnership," said Carley Graham Garcia, head of community affairs at Amazon in New York and New Jersey.
The Nicholas P. Scutari Service Scholarship will support Kean students who demonstrate a commitment to service.
Tagged