NJCSTM Grads Bring Laboratory Experience into Their Future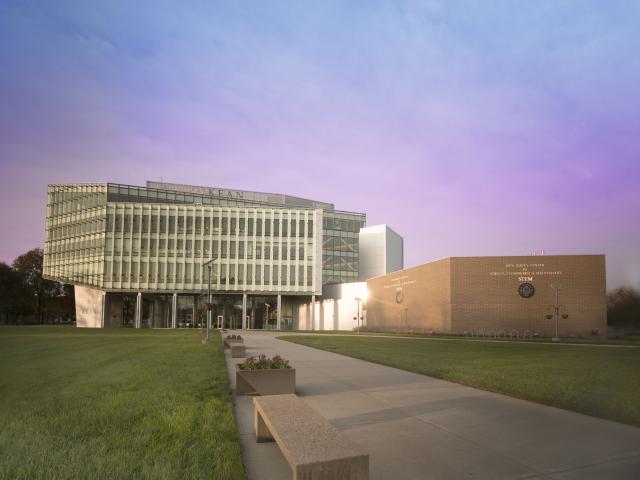 The Class of 2021 at Kean University's New Jersey Center for Science, Technology and Mathematics (NJCSTM) is graduating with a deep level of research experience as the first class to have every student complete the Kean Research First Initiative.
The program puts students into the research lab starting in their first year at Kean to promote interest in scientific research and encourage students to pursue careers in STEM. 
Kean President Lamont O. Repollet, Ed.D., said research is a hallmark of a Kean education, and the University's commitment to RFI helps propel the University toward its goal of becoming a leading research institution.
"RFI offers Kean's diverse student population the training and skills needed to enter graduate school or the job market with lab experience, published research and confidence in their skills," Repollet said. "Through it, we are transforming the way students learn by enabling them to join faculty-sponsored research teams and gain real hands-on experience." 
The RFI program, which begins freshman year, requires students to complete core research courses and work with a faculty advisor on authentic research for four years. Qualified students in other Kean colleges can also enroll with approval of their advisor and the RFI Admissions Committee.
"The RFI program is designed to attract and retain students in STEM fields using experiential approaches and teaching practices that are widely accepted as being the most effective in STEM education," said Keith Bostian, Ph.D., dean of NJCSTM.
"Without question, these students represent the best that Kean University, and NJCSTM, can produce. They have taken full advantage of the rich, learning experiences we provide in our classrooms and laboratories, and to their credit, have done it while managing the disruptions over the past year due to COVID-19," Bostian said.
NJCSTM offers an honors curriculum combining science and research, to instill critical thinking and problem-solving skills for students headed into the scientifically and technologically advanced world.
This year's NJCSTM senior class includes 26 students in a half-dozen majors: computational science; biomedicine; molecular biotechnology/biology; and biology, math and chemistry education. 
The graduating students took part in RFI projects at NJCSTM that ranged from exploring the molecular bases of diseases like COVID-19, to analyzing statewide student achievement test data and working with school districts to identify needs for professional development for K-12 STEM educators. Many students do additional research after RFI.
While many NJCSTM grads take part in RFI, this marks the first year that all graduates have done so and are eligible for Research Honors.
In addition, 88% OF NJCSTM's Class of 2021 members are currently eligible to graduate with honors — cum laude, magna cum laude or summa cum Laude.
Alyssa Ramirez, a biomedicine major from Somerset and graduating senior, said during her freshman year she began doing research creating CCR1 antagonists for the treatment of an aggressive form of brain cancer called glioblastoma. Her mentor was Kean Associate Professor James R. Merritt, Ph.D.
"I was very nervous since I had never done research before. They told me the process was easy and the professors would lead me through everything until I felt comfortable," she said. "It also helped that I was taking lab classes, so I felt more comfortable being in a lab coat and goggles."
Ramirez, who continued doing research at Kean after her RFI project, currently works at Robert Wood Johnson University Hospital as a clinical care technician in the Cardio Prog Care/Telemetry department. Following graduation, she plans to apply to graduate school to become a physician assistant specializing in cardiology. 
She said the NJCSTM program gave her confidence to succeed.
"Studying at  NJCSTM and being involved in RFI allowed me to meet new people and try different things outside my comfort level," she said. "Now as I reach graduation, I remember being challenged in many ways, but, I feel like I came out stronger and more prepared to face the next stepping stone in my career."