President Farahi Points to Vision 2020 Success in Opening Day Address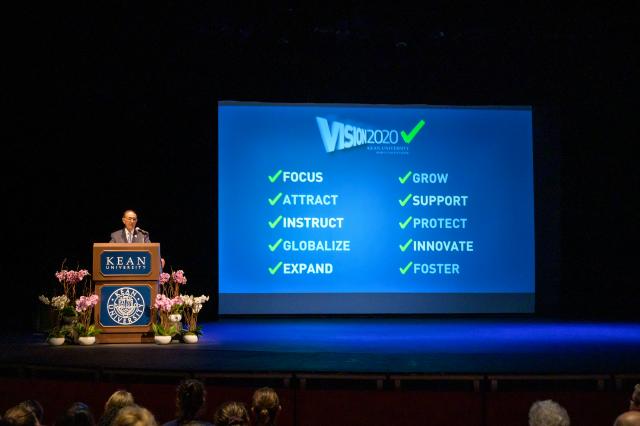 Kean University President Dawood Farahi, Ph.D., last week told the University community that Kean has achieved its goals outlined in the Vision 2020 strategic plan "beyond our expectations" and that 2020 will be his last year as president.
Speaking to a full house at Wilkins Theatre on Thursday, August 29, Farahi said Kean has expanded its academic programs, enhanced instruction, attracted strong students and increased the University's global reach among other accomplishments.
"It has been my honor to serve this University on its path toward Vision 2020," said Farahi, shortly before receiving a standing ovation. "I will complete the last year of my presidency in 2020, and I do so confident that Kean University is transformed; it is flourishing; and it is well-prepared to serve the next generation of global leaders."
Farahi pointed to student and alumni accomplishments throughout his remarks, starting with sisters Tiziana '19 and Beatrice Cappuccia '15, who served as valedictorian and salutatorian, respectively, of their graduating classes; and "Meteor Mike" Rizzo, a Kean alumnus and adjunct professor who won a New York Emmy for his work as a TV weather anchor in the Bronx.
"We could tell hundreds of stories like this," Farahi said.
The president described the growth of Wenzhou-Kean University in Wenzhou, China, and the Kean Skylands campus, which opened this year in northwestern New Jersey. He also spoke about the construction of the new Hynes Hall set to open in 2020 and improvement projects elsewhere on the Union campus.
Farahi also cast the University's eyes forward, saying the Kean community will soon embark on a new strategic plan to ensure progress continues.
"We must never stop improving," he said. "Good enough is never good enough for our students. Our combined efforts have produced amazing results for students and brought distinction to Kean University. As a multi-campus, regional university with a global reach, our reputation is moving from good to great."
Read more about President Farahi's announcement.
Following the speech, Kean faculty, staff and students moved from the theatre to a reception at the new Liberty Hall Museum and Academic Center, which opened this fall. Many of those in the crowd said they were surprised by the president's news.
Lauretta Farrell, D. Litt, director of the Human Rights Institute at Kean, said she thought the president's speech was wonderful. "I really enjoyed the opportunity to look back at what we've accomplished, as well as look forward," she said. 
"I was surprised to see the president is retiring. I am deeply grateful for the opportunity he has given both me and our students to explore contemporary social issues through the Human Rights Institute."
Scott Snowden, director of the Kean Center for Leadership and Service, said he was also surprised by the news. A Kean alumnus, Snowden said he first came to know Farahi as a student in one of his classes.
"Dr. Farahi has been here for the entire time I've been at Kean. Throughout my time here, first as a student and now on Kean's staff, I have seen the results of his leadership," Snowden said. "The University will continue to excel, but it's going to be different without his leadership."
Tagged