Dawood Farahi Announces 2020 Will Be His Last Year as University President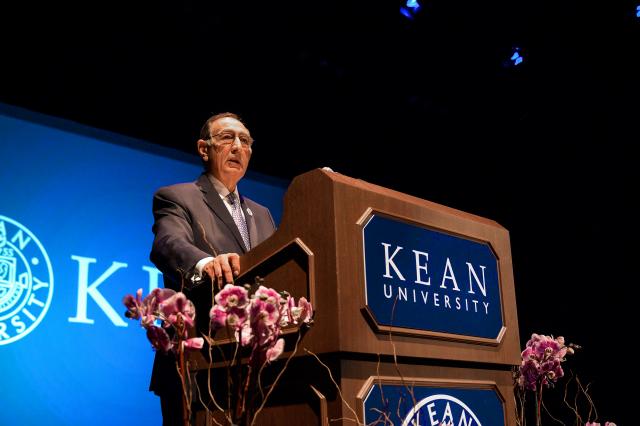 Kean University President Dawood Farahi, Ph.D., today told the campus community that he will serve his last year as president in 2020 after 17 years leading one of the state's largest and most diverse universities.
"It has been more than my honor and my privilege to lead this amazing university; it has been a significant part of my life," Farahi said. "We will continue this academic year on our path of progress and transformation, building a financially strong and academically vibrant institution like no other in New Jersey. The future for Kean students is bright."
Read President Farahi's Opening Day Address.
Watch President Farahi's Opening Day Address.
Farahi began his career at Kean more than 30 years ago in the classroom. Since his 2003 appointment as the 17th leader of the University, Farahi has championed a multitude of initiatives that have elevated both the quality and stature of Kean University. He transformed Kean into a college of choice, remaining true to its roots in education while creating some of the region's most competitive academic programs in fields ranging from occupational and physical therapy to sustainability science and forensic psychology, to name a few. He also championed landmark programs in STEM, computer science and architecture with a specific goal of increasing the number of women and minorities participating in these fields.
Farahi shared his decision to complete his presidency in 2020 with the Board of Trustees earlier this month, he said.
"President Farahi's leadership at Kean is nothing less than phenomenal," said Board of Trustees Chair Ada Morell '97. "He put students first from the start. He made sure they had the world-class faculty, facilities and services they need to succeed. He created opportunities for students to access higher education not just in Union, New Jersey but in Ocean County, in the Skylands and across the globe in Wenzhou, China. It's too early to talk legacies, but Dawood's devotion to student success certainly will be one of his."
Read coverage of Farahi's Opening Day Address.
Among Farahi's many signature achievements are the creation of the Human Rights Institute at Kean University; the creation of the New Jersey Center for Science, Technology and Mathematics at Kean University; and the integration of the Liberty Hall Museum campus with Kean University.
He made access to higher education the cornerstone of his presidency, leading with great success a visionary strategic plan called, aptly, Vision 2020. He expanded the University's footprint to South Jersey by partnering with Ocean County College on a unique initiative that lets Ocean County students complete their undergraduate studies at Kean without leaving the OCC campus. He partnered with the New Jersey Department of Environmental Protection to bring higher education to northwest New Jersey by transforming an abandoned abbey in the pristine New Jersey Skylands into a unique and gorgeous campus for undergraduate education.
"Dawood Farahi is a dear friend. More importantly, he has been a transformational leader for Kean University," said Jon Larson, Ph.D., president of Ocean County College. "For over 10 years, Kean has been present on the OCC campus in a groundbreaking partnership that has benefited both institutions. OCC and Kean will miss his charismatic leadership and his wisdom."
Perhaps most ambitious of all, President Farahi led the effort to create the first full-scale public university in China, Wenzhou-Kean University, partnering with then-Provincial Secretary Xi Jinping of Zhejiang to redevelop a 300+ acre property in Wenzhou, China into a large scale, state-of-the-art campus serving both Kean University and Chinese students. Xi is now president of China. Former U.S. Consul General to Shanghai Robert D. Griffiths likened the importance of this initiative to the groundbreaking visit of President Nixon to China in 1972.
"It is important to Dawood that Kean students have the same opportunities to succeed as those who attend elite universities," said Steve Fastook, Chair of the Kean University Foundation Board of Directors. "Many of our students are the first in their family to attend college, and President Farahi does all he can to ensure it is the greatest experience they ever have. His passion for Kean and its students is unmatched. We have been lucky to have him for so long."
Another cornerstone of Farahi's presidency is the transformation of the university's main campus in Union, New Jersey. Since the beginning of his presidency, the University has undergone a $500 million+ redevelopment program that saw aging and dilapidated facilities replaced by state-of-the-art academic and research buildings. In addition to the STEM building, Farahi oversaw the creation of unique and high-tech new facilities dedicated to architecture and design, clinical and health professions, graduate studies, history and student housing. He led the development of some of the best athletic facilities for Division III schools in the region and, in a partnership with the state of New Jersey and Union Township, oversaw the transfer of property that allowed the creation of the bustling Union Township train station, now a major commuter hub to New York City.
Former New Jersey State Senator Raymond J. Lesniak, who now leads the Lesniak Institute for American Leadership at Kean, called Farahi a visionary and true change-agent.
"Dawood did more than lead the University; he transformed it," Lesniak said. "He made tough, bold decisions, was guided by principle and an uncanny ability to anticipate market demands, and never shied from confrontation if he knew he was fighting the good fight. I'm impressed by all he has accomplished. Generations of Kean students to come will have a better chance at success because of Dawood Farahi.
Elizabeth Mayor Chris Bollwage, a two-time graduate of Kean and an adjunct with the public administration program, said President Farahi has improved Kean University in every area.
"As a graduate of Kean watching the growth of the infrastructure and the constant improvement in the quality of programming, I am proud to say President Farahi has put Kean University on the map," Bollwage said. "His presidency has ensured that quality of Kean University continues to improve, along with the success of its current students and future applicants."
Chimaobi Odumuko '05, a former president of Student Organization at Kean, said Farahi changed his life dramatically.
"I wouldn't be where I am today without him. He always cared for me and checked in on how I was doing while I was at Kean. He always pushed me to have a plan for my life after Kean. And whenever times got hard, I would reflect back on his words, and I knew I could make it through. I'm proud to have been his student and smile knowing that he has touched the lives of thousands of students just like me."
Farahi's contract allows him to return to the faculty at the conclusion of his presidency.
Morell said the University will begin a search for the next president this fall. Details about the search process, which will include outreach to all University students, faculty, staff and alumni, will be shared in the coming weeks.