Program Aims to Help Students Succeed in Challenging Courses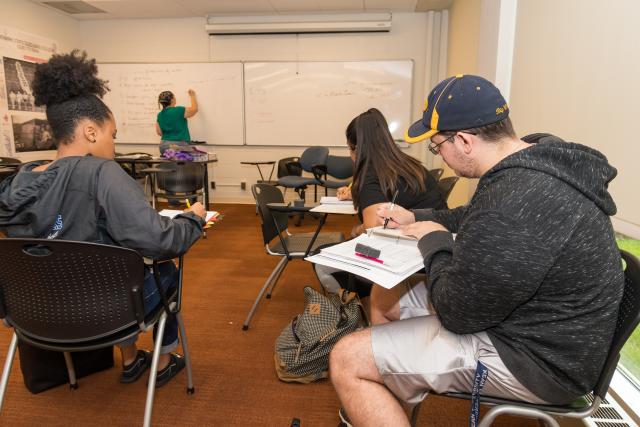 Does chemistry seem difficult to you?
A new program at Kean aims to help students excel by offering voluntary extra instruction in specific courses that have been identified as challenging -- like chemistry.
The Supplemental Instruction program offers peer-run group study sessions on a drop-in basis that are open to every enrolled student.
Sessions provide collaborative activities and support intended to engage students and result in better grades and a smoother path toward graduation.
"It's very different from a tutoring model. Typically, students who perceive they are struggling have to go seek help with a tutor outside the class. Here, the support is presented to the students on the first day of class and anyone can access it," said Neva Lozada, Ed.D., director of student success and retention at Kean.
Courses are selected for the Supplemental Instruction program on the basis of the rate of D's, F's, and withdrawals that typically result from them. The sessions are led by students who have already taken the course and done well. As part of the program, leaders "embed" in lectures as well, sitting through classes alongside the students they are assisting.
The first class identified at Kean is general chemistry, CHEM1083. At least 30 of the 200 students enrolled have attended supplemental sessions so far this semester, Lozada said.
Ariella Askew, Class of 2020, a biotechnology major, held a recent Supplemental Instruction session at the Kean library. Five students attended, sitting in a semi-circle and pulling out notebooks and laptops. One of the first topics covered was the calculation of electromagnetic force.
"It's exciting for me. I love chemistry," Askew said.
Orette Francis, Class of 2021, a transfer student majoring in biology and physical therapy, was the first volunteer to do a problem on the whiteboard. "I think it helps a lot. I took a chemistry class at my previous school, but it's been a while," he said. "This is clarity."
Next semester, Supplemental Instruction will be offered in both general chemistry 1 and 2, and possibly a math class.
The pilot program at Kean is based on a national model developed at the University of Missouri, Kansas City, in 1973, and offered at some 3,000 universities worldwide. International data shows that students who attend Supplemental Instruction tend to complete the course with almost a full letter grade higher than those who don't, Lozada said.
For more information on the Supplemental Instruction program or available sessions, please contact Kean's supplemental instruction program via email.