Q&A: J. Barry Mascari, Ed.D., and Jane Webber, Ph.D. on Counseling, Kean and Achieving a Pinnacle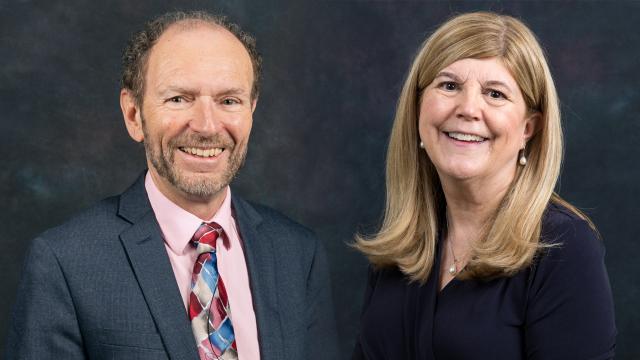 J. Barry Mascari, Ed.D., chair of Kean University's graduate Department of Counselor Education, and Jane Webber, Ph.D., lecturer and doctoral program coordinator in the department, earned a pinnacle honor in their field this past year. Both were named Fellows of the American Counseling Association (ACA), the world's largest organization representing professional counselors in various practice settings.
The two, who are husband and wife, have long been leaders in the counseling field. Webber has chaired the ACA Foundation; Association committees in human rights, international affairs and public awareness; and more. She was coordinator for five years of the annual Disaster Mental Health Counseling and Learning Institute, and has presented and written extensively on trauma and other topics.
Mascari co-authored the NJ counselor licensing law; led the state Mental Health Counselors Association and the ACA state branch, NJ Counseling Association; chaired the NJ licensing board; and was president of the American Association of State Counseling Boards. His work led to the creation of the 2020 Summit on Counselor Licensing Portability and Identity, where he was referred to as the "grandfather" of the initiative. He has also written extensively.
Mascari and Webber sat down with Kean News recently to talk about the achievement, the counseling field, and their work at Kean.
Congratulations on being named Fellows of the American Counseling Association. What is the significance of the honor?
Mascari: The goals of the Fellows are to represent a diverse community of thoughtful leaders that creates and expands on knowledge in, and insight into, the counseling profession. Fellows are encouraged to take an active role in the ACA in identifying future trends, research and issues.
Being named a Fellow is like a lifetime achievement award, a capstone to my activities in my career, and hopefully I am not done yet. The recognition was for multiple levels of contributions to the counseling profession.
Webber: Fellows also seek to identify and develop future leaders, and encourage those who have and will continue to be active leaders in support of ACA and Fellows' activities and programs.  Becoming an ACA Fellow is the recognition of a long career of service to and leadership in the counseling profession.
Dr. Webber, a large part of your recent work focuses on trauma and disaster mental health training for counselors. You co-edited the book, Disaster Mental Health Counseling: A Guide to Preparing and Responding, and you have presented together on this topic. Why did you choose to focus on this area?
Webber: It may be more apt to say that this area found me. My work began in 1971 during the Vietnam War downsizing, when soldiers were stationed in Heidelberg, Germany prior to being sent home. I knew little about the effects of combat and trauma when I worked with many soldiers with PTSD at the Army Family Services and Education Center.
After September 11, 2001, as ACA Foundation Chair, I moved quickly with the Board of Trustees to shift the agenda and provide resources for the response. With increased terrorist attacks, mass violence, and disasters, I co-authored the 2009 CACREP (Council for Accreditation of Counseling and Related Educational Programs) standards for disaster, trauma, and crisis counseling.
The public hears about disaster mental health counseling when traumatic events occur such as the Parkland school shootings. In a nutshell, what is disaster mental health counseling?
Webber: Disaster mental health counselors support, assist, and empower survivors in the immediate aftermath of a disaster. We teach students "Protect, Direct, Connect." This reflects psychological first aid goals to make sure trauma-affected persons are safe from further harm; to provide for their immediate needs–food, shelter, comfort, information, medical support, stabilization, coping skills; and to connect them to family, friends, spiritual and other supports.  
Mascari: We are getting more requests to address ways to help counselors prevent "vicarious traumatization," which refers to a transformation that can occur when a trauma worker connecting with clients experiences emotional disturbance. One of my favorite questions is, do these techniques really work? Counselors see that they do, then they tell us how amazed they are.
Do you believe the average counselor is adequately prepared for the possibility of a disaster, either natural or man-made, occurring in his or her community?
Mascari: No! Many skilled, well-meaning counselors cannot serve alongside other mental health responders during a disaster simply because they do not have the basic knowledge expected by the Red Cross or FEMA. Counselors can take the first step to prepare by taking FEMA courses, then attending DRCC (Disaster Response Crisis Counselor) courses available at Kean. We need to do more from a leadership level to make disaster and trauma a priority and central to what we do as counselors.
Webber: The fallacy "it could never happen here" has been destroyed by traumas we have seen across the country. Like suicide prevention and intervention, every counselor must be trained and prepared for disaster and mass violence in communities and schools.
Let's talk about Kean's Counselor Education program. What is the program like for students? Who are your students?
Mascari: Our program is like a family, and our students get jobs. We provide content training, process training, and clinical skills such as working with families. We promote social advocacy, and we promote and practice social advocacy. Our students will say they come out as a different person. They don't just take classes and become a counselor, they work on personal development. They grow as their own people.
Webber:  Our students are rich in their diversity and dedication to social justice. Many of our students have survived trauma; we find that is part of our strength. They are skilled, trauma-informed, compassionate counselors recognized by many employers as the best prepared counselors in the state. We are truly a close-knit family, and it's a joy to work with them each day.
Mascari: Kean students are distinctive, and we're proud of them.