Q&A: A Legend Retires After 50 Years at Kean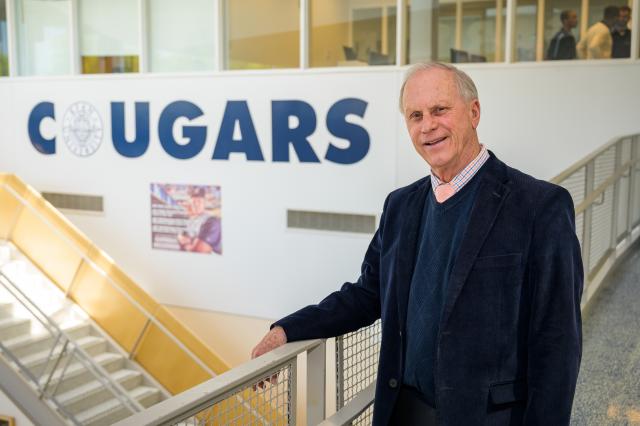 Rich Bakker, Ed.D., professor of health and physical education, is retiring at the end of June after 50 years teaching at Kean University. He coached the baseball team for 11 years in the 70s and 80s and was the chair of the physical education department for 14 years until 2013. In 2000, he was inducted into the Kean University Benisch Athletic Hall of Fame.
University Relations sat down with Bakker for a brief interview about his career at Kean and the changes he has seen at the University.
How did you come to Kean?                                                                                                                                                 
I was hired along with three other people in '69 because the Kean president at that time, Nathan Weiss, wanted to start a football program. He thought the best way to recruit athletes would be to start a teacher preparation program in physical education and health, so they hired four of us at the same time.
Why did you decide to retire at this point?                                                                                                                   
I just felt it was time. I've enjoyed my job immensely. I thought the goal of 50 years had been reached and it's time to let some of the younger people do some of the jobs.
What's your overall impression of how things have changed in 50 years?                                               
When I was a baseball coach, I would never bring recruits on campus because they probably wouldn't come here. So things have changed dramatically from what it is now. This was not an attractive campus; it is now.
How have students changed over the years?                                                                                                            
I remember that years ago, before class, the classroom was noisier. The students would always be talking. Now, before class, things are quieter. The students are on their phones.
Have you changed your teaching style over the years?                                                                                       
A little bit. I think this group of students needs to have more information presented to them visually, so I usually start the class with an outline of what we are going to cover, a visual overview. That seems to help them.
Is there a highlight of your 50 years here, something that stands out?                                                        
I was department chairperson for 14 years and I really took a lot of pride in how the program increased in size and quality, and the success of our graduates and where they are now. There are a number of physical educators who have been named Teacher of the Year who have graduated from our program. There are a number of coaches who have been named Coach of the Year in their respective sports around the state who have graduated from the program. That's a reflection, I think, of the training that they got here, so that's always nice to see — the success of your students.
Is this an emotional time for you as you retire?                                                                                                         
I think it will become more emotional in the coming weeks and probably in September when I'm not coming back to hear the Opening Day Address. You know I've heard a lot of those over the years.
I'm going to miss my colleagues. I'm going to miss the students. I'm going to miss working with college students. It keeps me young.
Is there a student who stands out to you?                                                                                                          
I had a student who played for me in the 70s. About seven or eight years ago, he had a mini-stroke. When we talked after the stroke, he said the thing that got him through his recovery and his surgery were some of the things that we talked about when he was playing and I was coaching. He said he looked back on those days of hard work and discipline, and it helped him get through those trying times. That was really touching, and really nice to hear.
What do you see in Kean's future?                                                                                                                                    
I think our department is becoming much more diversified as far as opportunities. Kean is more than teacher education now. We have exercise science and athletic training, probably the best program in the state. We're going to go into community health. We're going to go into therapeutic recreation. I think there will be a lot more opportunities in allied health for people to go beyond the scope of teaching.
What are your retirement plans?                                                                                                                                 
I'm probably going to stay busy doing a lot of volunteer work. I don't want to be around people who are just complaining about their ailments. I want to be around younger people and people who have a young attitude about life, which I think is important.
Is there a Kean story that you tell, one story that has stuck with you through the years?                 
A number of years ago, I was at a restaurant in Lavallette. I'm sitting there, and a guy turns to me and says, "What do you do?" I say, "I work at Kean University." It turns out, he went to school at Kean. He asks my name and I tell him. He then turns to the other guy and says, "This is Rich Bakker. He's a legend at Kean University." I don't know if I am a legend, but it always cracks me up.