Sharing Our Voices: Kean Campus Climate Survey to Promote Fairness and Inclusion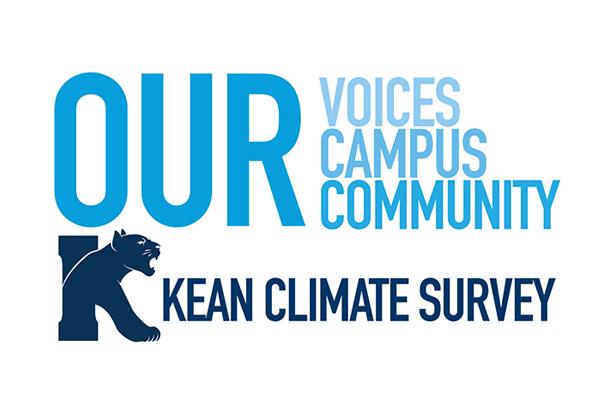 Kean USA students, faculty and staff have the opportunity to help build a more inclusive University environment by participating in the Campus Climate Survey.
The confidential survey will assess the current attitudes, behaviors, standards and practices of employees and students of the University. The survey is being run by Rankin & Associates Consulting, a firm that has conducted more than 200 campus climate surveys over the past 20 years.
All members of the campus community are encouraged to take part and share their experiences.
In a Universitywide email announcing the initiative today, President Lamont O. Repollet, Ed.D. noted that the Campus Climate Survey addresses equity, one of the pillars of his administration.
"At Kean, our goal is to create and maintain an environment of fairness, equal access and open communication for students, faculty and staff," he wrote. "It is critically important that all members of the Kean community are heard and respected and their potential is recognized and supported. This is what we mean at Kean when we say, Cougars climb higher, together."
The Campus Climate Survey is designed to gather information on the experiences of students, faculty and staff and their attitudes about the University. The information will be used to assess Kean's policies and practices regarding inclusion and equity as well as help the University develop new policies and practices to further support individual needs, abilities and potential.
The survey will be accessible on the Campus Climate Survey webpage from Wednesday, March 2 through Friday, April 15. 
"The climate of any campus is shaped through personal experiences, perceptions and institutional efforts," said Tamika Quick, executive director of Kean's Office of Diversity, Equity and Inclusion. "To fully understand where we are as a University — our successes and where we can improve — we need everyone to take part in this important project."
Quick and Associate Professor Mia Zamora, Ph.D., director of the M.A. in Writing Studies program, are co-chairs of Kean's Climate Survey Working Group, which helped develop the survey with the consultants.
"Our Voices, Our Campus, Our Community is our survey motto because we are all stakeholders in this special community," Zamora said. "Everyone should take a moment to respond to the survey in order to shape equal access, inclusion and successful outcomes for the entire Kean community."
Anyone who completes the survey will be able to enter a giveaway, conducted separately from the campus climate assessment, for a chance to win prizes that include hoodies and other Kean merchandise.
The survey consultant will provide a final report in Fall 2022 with high-level summaries of the findings and themes found in the data. There will be no access to the final report by any member of the community before it is released publicly. 
For more information and a FAQ about the Campus Climate Survey, visit the survey webpage.
Tagged