Solemn Ceremony, Day of Service, Memorialize September 11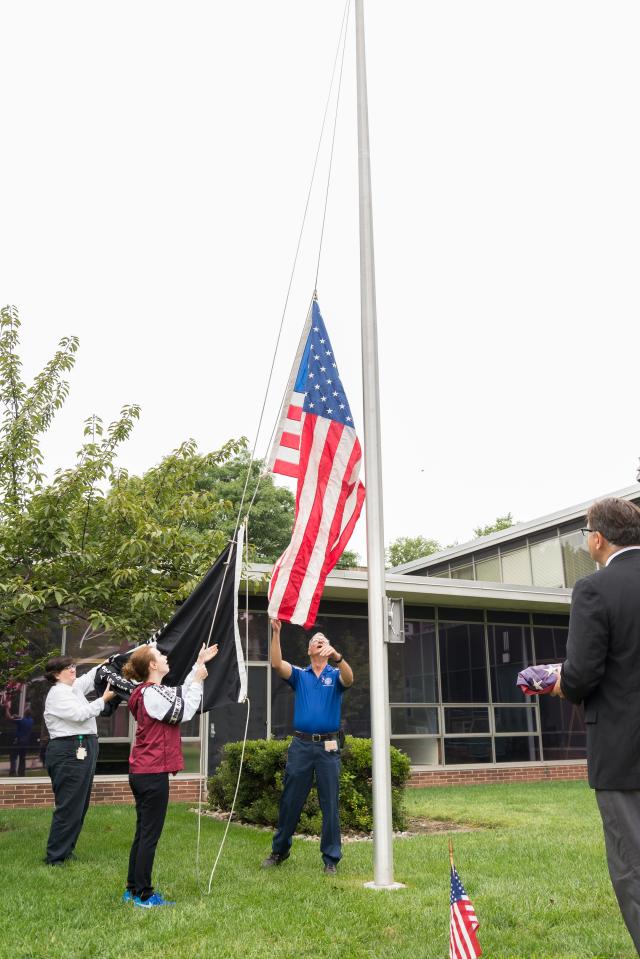 The Kean University community remembered the September 11, 2001 terror attacks in a solemn ceremony at the University's Human Rights Institute that also marked a day of service to others.
With speeches, student readings, a stirring vocal performance of the National Anthem by a member of the Kean Gospel Choir and a moment of silence, Kean honored the nearly 3,000 victims of the terror attacks, and lauded the National Day of Service that rose from the tragedy 17 years ago.
A campus blood drive, a volunteer project making sandwiches for the homeless and other service work also took place as part of the commemoration.
"September 11 changed America forever," said Kean President Dawood Farahi, Ph. D., addressing the crowd of more than 150 students, faculty and others at the ceremony. "We came together as a nation and people."
Former State Sen. Raymond Lesniak, founder of the Lesniak Institute for American Leadership at Kean, also praised the American spirit that followed the attacks. "All Americans remember where we were when the Towers came down. And we remember the courage of the firefighters and police," Lesniak said. "America was shaken, but we were not broken."
The September 11 attacks on the World Trade Center and the Pentagon, and the plane crash in Pennsylvania where passengers brought down another hijacked plane, stunned the world. While many of those at the ceremony were left with indelible memories of the day, others attending the event were too young to have any real recollection.
"I remember being in kindergarten or preschool. I remember being picked up early and not knowing why," said Michael Carfagno, 21, a Kean senior majoring in communications, media and film.
Katherine Owens, 27, a Kean senior majoring in communications and public relations, said she was in middle school at the time. This year's remembrance ceremony is the first she has attended. "I just felt moved to come," she said. "It definitely inspired me to do more."
Following the ceremony, an American flag that had flown over Ground Zero was raised at Kean's September 11 Memorial. In addition, volunteers from the Lesniak Institute — including Lesniak himself — and Be the Change NJ, a service group, teamed up to make 200 peanut butter-and-jelly sandwiches for distribution to the homeless in New York City.
As workers spread jelly and peanut butter, and put sandwiches in brown paper bags, Be the Change NJ Director Norma Bowe, Ph.D., a Kean professor, said many of her students felt moved to do something.
"We're just making a point to put some good in the world on a day that so much bad happened," she said.
Kean freshman Ahmed Dahab, 17, a biology major on the physician assistant track, was six months old when September 11 occurred and has no memory of the terrible day.
"Instead of sleeping in, I just really wanted to volunteer today," he said. "It may seem cliché, but it's just the right thing to do."