Sophomore Becomes Dean for a Day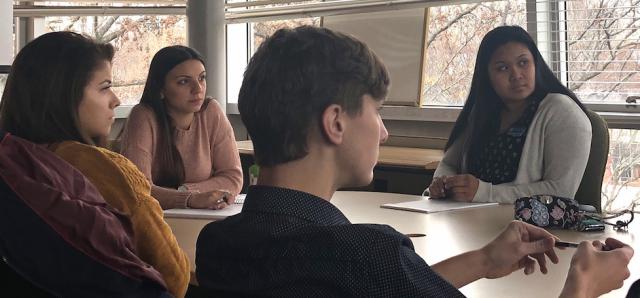 Sophomore Jianna Pisa, of Williamstown, switched places for the day with Kean College of Liberal Arts (CLA) Dean Jonathan Mercantini, Ph.D. Pisa won CLA's inaugural Dean for a Day, a competition designed to increase collaboration between university faculty, administration and students. Pisa took on Mercantini's duties while he sat in on her classes and attended her extra-curricula activities.
Pisa was selected from a competitive applicant pool for her outstanding 4.0 GPA and the goals she hoped to achieve as dean.
"I hope to vocalize student ideas through this experience and bridge the gap between students and administration, faculty and staff," said Pisa. "The ultimate goal is to open the pathway for communication."
As dean, Pisa managed a busy agenda. She convened a focus group of student leaders from different subject areas within the College of Liberal Arts, including psychology, sociology and theatre. The focus group shared concerns about advisement and registration, collaboratively brainstorming potential solutions. She also met with Associate Vice President of Academic Affairs Suzanne Bousquet, Ph.D.
Mercantini, meanwhile, got a first-hand look at life as a Kean student.
"Jianna's busy schedule, including classes, a student club and working as a General Education Mentor (GEM) in a Transition to Kean class, gave me the opportunity to learn about many different aspects of student life at Kean," said Mercantini.
Mercantini looks forward to leveraging the insights gained from Jianna's experience to benefit CLA students.
"I feel like I have a much better perspective on the student experience at Kean," said Mercantini. "One thing that came out of sharing my day with Jianna was to work on some ways to encourage students to reach out and work directly with faculty, staff and administrators. Jianna has some great ideas to improve the student experience at Kean and you'll be seeing them implemented in the upcoming semesters."