Student-Veteran Receives K-9 Service Dog
A special Veterans Day ceremony was held on Kean's Union campus as senior Jason Pryor, a U.S. Army veteran, introduced the K-9 service dog that he received through an on-campus fundraiser.
Pryor, a senior from Elizabeth majoring in exercise science, did tours in Iraq and Honduras and suffers from PTSD. He received the K-9, named Keen, at the start of the Fall semester as a gift from the Kean Office of Student Government. 
"Being with Keen has taught me to be more patient," said Pryor, whose dog accompanies him to class. "Keen is used as a measure to help prevent me from going through the symptoms and effects of spiraling down, by me tending to his needs and having him tend to me."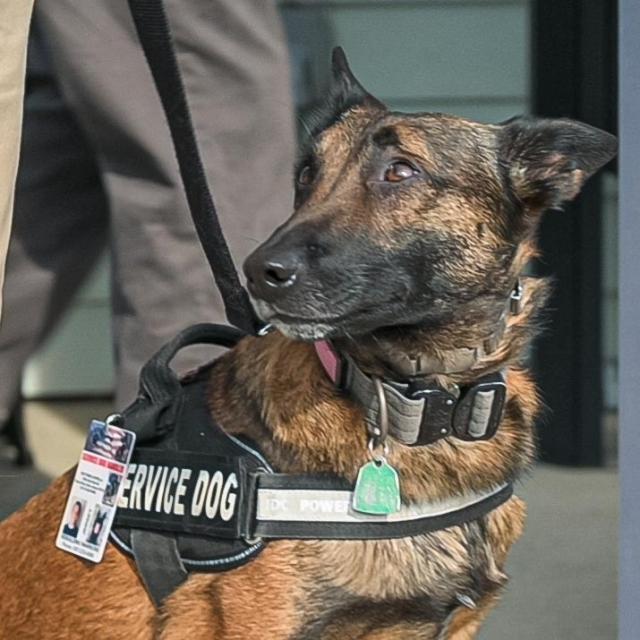 Kean University is ranked first in the nation among large public schools for its programs supporting student-veterans, according to the Military Friendly Schools survey. 
Student Government raised nearly $20,000 to support service dogs through Rebuilding Warriors, a volunteer non-profit organization whose mission is to provide trained service dogs to veterans. The bulk of the funds raised went toward training Pryor's dog, and the rest was donated to Rebuilding Warriors to help train other K-9 dogs.
At the ceremony held outside Miron Student Center, Vito Zajda, director of Veteran Student Services at Kean and a U.S. Coast Guard veteran, called Pryor a remarkable student.
"He has been a big support and influential person in our program," Zajda said. "He has helped open our eyes about how the University can best support its vets."
Vice President of Rebuilding Warriors Jeff Mullins, also a veteran, said PTSD is a disorder that can't be seen by others. "It's invisible, stays with you your entire life, and it's not easy sometimes," he said. "Our goal is to provide veterans and first responders with a service dog to help them achieve their new normal."  
The Veteran's Day event included a color guard, a performance of the national anthem by the Kean Gospel Choir, and the presentation of other honors. Juan Leon Torres, a senior from Spotswood also studying exercise science and a U.S. Navy veteran, received the 2019 Kean Veteran's Award for Outstanding Mentor. He develops transition opportunities and initiatives, and mentors a student-veteran each semester.
"Being a veteran and going back to school is super hard because you go from one community to a different lifestyle," Torres said.
Zajda noted that it is important to support veterans at all times. "The importance of Veterans Day is to recognize that it's 365 days a year, as veterans go through different highs and lows in their lives," he said.