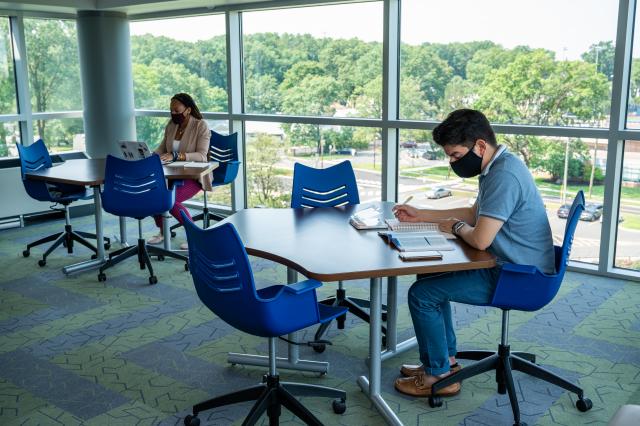 The COVID-19 pandemic that has been a shared global experience for more than a year has prompted a deep dive into the history of pandemics through a new course and an oral history project at Kean. 
The course, History of Pandemics, covers the demographic, religious, cultural, social, economic and political impact of pandemics including the 14th Century bubonic plague, the 1918 influenza pandemic, and the current pandemic.
"We created the course to help students understand that while the COVID-19 virus may be novel, human reaction to pandemic disease is not," said Elizabeth Hyde, Ph.D., chair of the Department of History. "With that knowledge, we can analyze and even anticipate the fear humankind has experienced this year and how we have collectively responded to that fear." 
In a related project, Kean's history department is creating an oral history of the pandemic, conducting interviews that will be housed in Kean's Special Collections Research Library.
"This course offers our students the opportunity simultaneously to do the work of a historian — putting the pandemic in an historical context and evaluating how we arrived at our current predicament — and to make history themselves," said Assistant Professor Abigail Perkiss, Ph.D., J.D. "They are creating primary sources that scholars will be able to use in the future to understand the world in 2020-2021." 
Timothy Sullivan, a senior from Woodbridge majoring in history and secondary education, said living through a pandemic motivated him to want to know more.
"This class is important because it is providing information on pandemics of the past and their link to today's events. In learning about past pandemics we can hopefully avoid some of the same mistakes we have made from the past," he said.
Acting Dean of the College of Liberal Arts, Jonathan Mercantini, Ph.D., said the department is taking a team-teaching approach to cover different facets of the course. 
"I am excited for this course as it reflects the Department of History's excellence at teaching and making connections between the past and present," he said. 
In addition to Perkiss, who is teaching COVID-19 and overseeing the oral history project, several professors are teaching different segments of the course:
Associate Professor C. Brid Nicholson, Ph.D., is teaching about the Influenza Outbreak of 1918.
Associate Professor Brian Regal, Ph.D, will focus on the history of medicine and vaccines.
Associate Professor Jacquelyn Tuerk-Stonberg, Ph.D, will cover magic and medicine in the late Antique and Medieval period.
Professor Christopher Bellitto, Ph.D., will teach a class focusing on the bubonic plague.
Professor Dennis Klein, Ph.D., is covering the bubonic plague and anti-Semitism.
Associate Professor Xurong Kong, Ph.D., will teach the 3rd Century pandemic along the Silk Roads and COVID-19 in China.  
Associate Professor Frank Argote-Freyre, Ph.D., will cover smallpox and the de-peopling of the Americas.
Mercantini will teach yellow fever in 1793 Philadelphia. 
Professor Kong has also invited UCLA Professor Michael Berry, Ph.D., the translator of Wuhan Diaries, to speak to the class when they study the outbreak of COVID-19 in Wuhan, China.
The course was first offered this semester and will be offered again in Fall 2021. It is open to students in all majors.
Tagged