Sustainable Business Practices Discussed at Kean Forum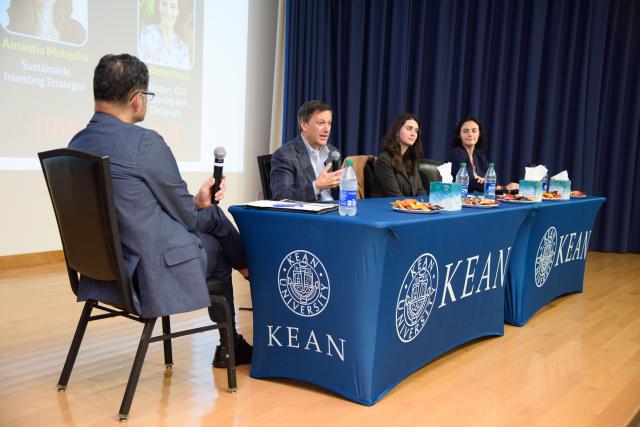 Kean University explored the role of business in addressing the threat of climate change and the importance of Environmental Social Governance (ESG) during an industry panel discussion held recently on its Union campus.
The panel Environmental Social Governance: The Role of Business in a Rapidly Changing World was presented on Tuesday, November 1, by Kean's College of Business and Public Management (CBPM) with the Department of Environmental and Sustainability Sciences. 
ESG refers to studying and rating companies on socially responsible business practices that support environmental sustainability and the health and safety of consumers and other stakeholders.
"There's not a single day that goes by in which we don't see some sort of news on ESG," said CBPM Dean Jin Wang, Ph.D. "This ESG panel discussion shed light on important and challenging issues related to ESG and sustainability, and is a significant contribution to our mission at Kean to transform diverse students into impactful global community members."
Three global business leaders shared their insight on a wide variety of topics such as the recent devastation of Hurricane Ian in Florida and its impact on the insurance industry.
"The dollar cost of weather-related disasters is increasing. The question is, who bears that burden?" asked Amantia Mehedini, director and sustainable investing strategist in the Chief Investment Office at UBS, one of the three panelists.
The panel also included Edward Amoroso, Ph.D., founder and CEO of TAG Infosphere, which includes TAG Climate and TAG Cyber; and Rachel Stern, worldwide manager for Enterprise ESG Reporting and Disclosure at Johnson & Johnson. 
Stern said J&J's ESG team strategizes on ESG policies and positions and "prepares the company's annual Health for Humanity report; that's our sustainability ESG report which has over 400 metrics." 
Students attended the discussion both on campus at Kean in Union and via livestream at Wenzhou-Kean University in China.
Kean Professor Thomas Abraham, Ph.D., who served as moderator, posed a question to the panelists about how businesses address "existential challenges" such as sustainability and social inequality, adding "we're not going to be around much longer" if such issues aren't addressed.
"Solving all of these things at once is a big mouthful," Amoroso said. "I think this is a generation that seems pretty serious about both."
Mehedini added, "We are beginning to realize how these non-financial issues are having financial consequences."
The event gave Kean students a window into the fields of cybersecurity and sustainability, entrepreneurship and sustainable investing.
Liz Pena, a senior management major/marketing minor from Elizabeth, said she enjoyed listening to panelists describe how ESG/sustainability fit into their business plans and financial decisions.
"Diversity, equity, inclusion and culture are key concepts in marketing and management and are important factors in ESG. It is not just about doing the right things," she said.
Riley Heesters, a senior managing major/marketing minor from Cranford, called the event a valuable opportunity.
"It is inspiring to know there are strong leaders in the business field working to create change in business, culture and the environment," he said. "It is important to note that companies are trying to find ways to make decisions that both benefit the environment and shareholders."
The three business leaders also offered career advice for Kean students interested in ESG.
Stern advised students to "chart your own course."
"Every role you'll see in the future will have to have some ESG knowledge," she said. "We really do need more smart, engaged, passionate people in this field."
Amoroso urged students to pursue futures as entrepreneurs.
"The real changes are going to come from people who decide they're going to change the world," he said. "Think big."
Tagged