Trading Places: Kean Student, Administrators Switch Roles in "Dean for a Day"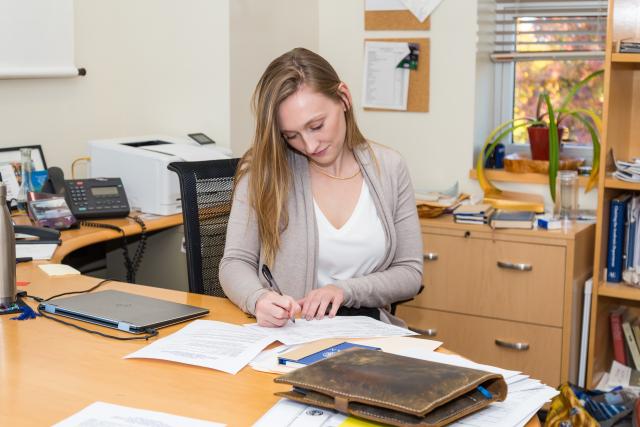 Imagine if a Kean University senior were to run meetings, solve problems and  be a campus administrator for a day; while at the same time, deans sat in classes, ate at the cafeteria and got a taste of student life. It happened at Kean on November 1, when senior psychology major Catherine Lenahan switched places with Jonathan Mercantini, Ph.D., acting dean of the College of Liberal Arts, and Debbie Skibitsky, acting assistant dean of the College of Liberal Arts.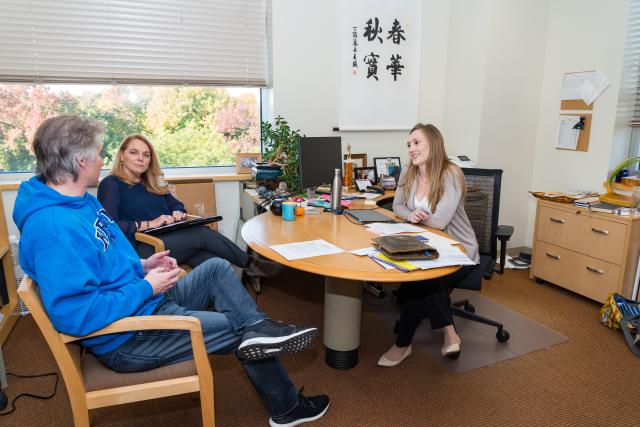 The day began in Mercantini's office, where the student went straight from her morning class to join him and Skibitsky. "Oh, you should be sitting here," he said, getting up and pointing for Lenahan to sit in his chair.
They went over the schedule; took care of some paperwork; then agreed to walk to East Campus together. "This is so fun, when will I ever get an opportunity like this again?" Lenahan asked.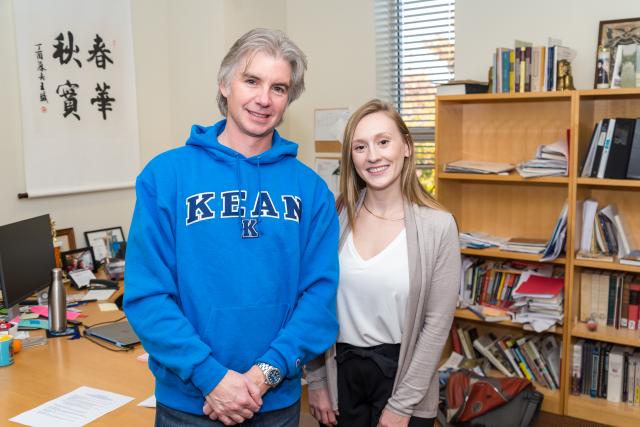 Lenahan and Mercantini posed for a picture before walking to East Campus. Lenahan, a commuter student who works at a day care center on days off,  was chosen from more than a dozen applicants to be Dean for a Day. She was selected  based on her outstanding academic work at Kean; her essay in which she discussed how she wanted to focus on the commuter student experience; and an interview in which she expressed her desire to improve the student experience at Kean, Mercantini said.
Both students and administrators gain insight and opportunities from Dean for a Day. "It's a way for a student to get a look at what goes on in the Dean's Office, and also for the student to be kind of an ambassador," Mercantini said. "I (also) get to wear jeans and a hoodie to work! And for that reason we should do this once a month."
The group toured the Kean University Occupational Therapy Community Cares Clinic. Lenahan, the student-turned-dean, said she plans to apply to Kean's graduate program in OT. Taking part in the visit were Lenahan, Mercantini, Christine Thorpe, Ph.D., dean of the Nathan Weiss Graduate College,  and Mariann E. Moran, OTD, chair of the Department of Occupational Therapy. Pictured with Lenahan are Moran, in green; Geraldine Pagaoa-Cruz, director of the clinic, shaking hands with Lenahan; and Alison Moretti,a Kean OT fieldwork II student, in background.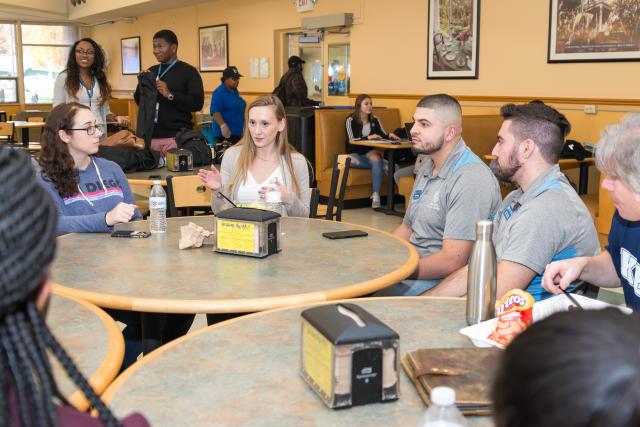 A lunchtime discussion at Miron Student Center cafeteria centered on Kean commuters. A focus group of 10 commuter students joined Lenahan, Mercantini, Scott Snowden, director of Kean's Center for Leadership and Service, and Carli Hench, managing assistant director for leadership and service.
Students raised concerns such as parking, the need for more tables in the commuter resource center, and student involvement.  
"I understand these struggles and what can oftentimes seem like excuses from commuters, but they're real things we all go through," Lenahan said.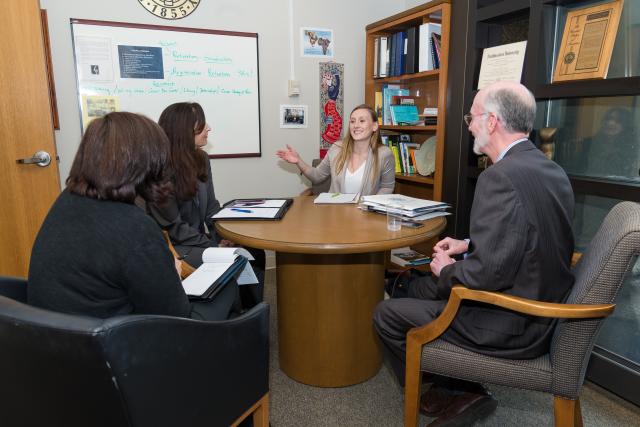 After lunch, Lenahan, center, discussed results of the student focus group. With her (seated counterclockwise) are Joy Moskowitz, assistant vice president of academic affairs; Carli Hench, managing assistant director of student government; and Jeffrey H. Toney, Ph.D., Kean provost and vice-president for academic affairs.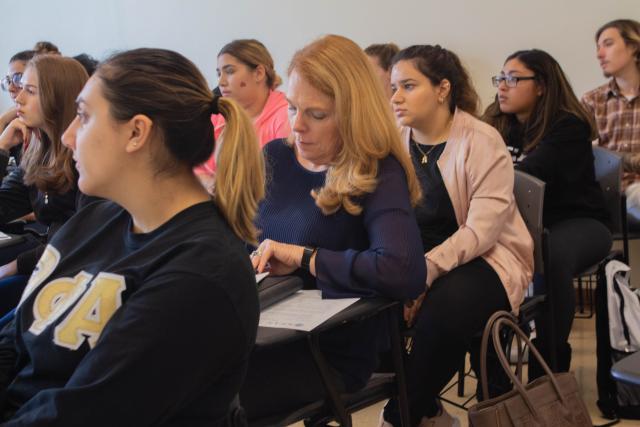 Skibitsky, acting assistant dean of the College of Liberal Arts, stepped out of her role to join one of Lenahan's classes. Here Skibitsky, wearing blue, attends a lecture in a community mental health class conducted by Professor Norma Bowe, Ph.D.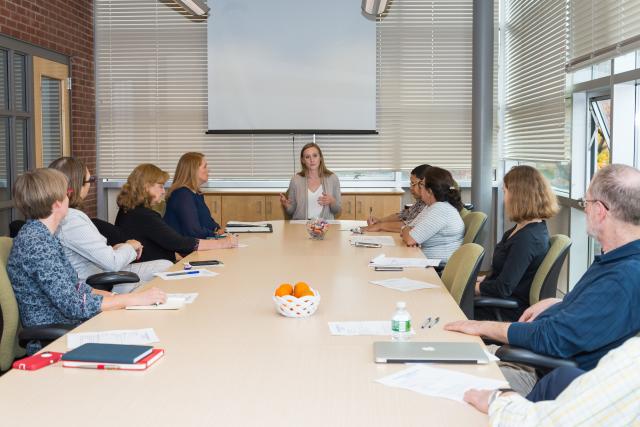 More meetings. Lenahan ran the first half of a College of Liberal Arts leadership meeting. After focusing much of her day on the 84 percent of Kean students who are commuters, she discussed the resources they need, such as additional hydration stations, and improvements to the Commuter Resource Center. Staff at the meeting said they would follow up with recommendations. "It's amazing to see how focused it [the job of dean] is on the student setting," she said, before turning the meeting back over to Skibitsky.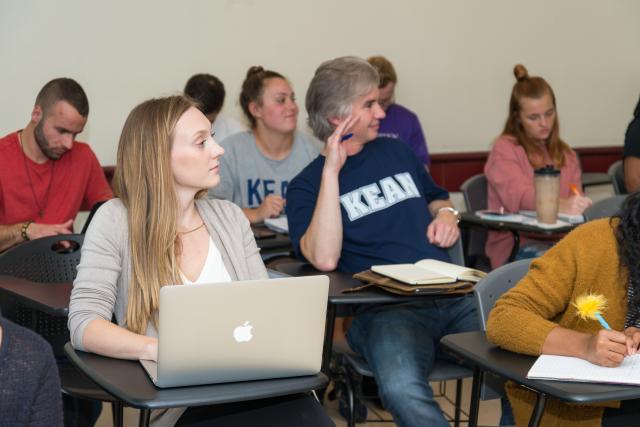 Mercantini -- in blue Kean t-shirt -- stepped back into the role of a student, joining Lenahan in a psychology class, "Perception," taught by Professor Andres Leblanc. Mercantini said he would love to have even more applications for Dean for a Day next year.
Lenahan, who will graduate in May, had a rare chance to view Kean from another perspective. "I thought I would be doing business-related things that don't have anything to do with me, but it wasn't," she said. "It was very student-focused. Then I thought to myself, it's not surprising because it really does show."