US Sens. Menendez, Booker Highlight $18 Million in NJ Higher Education Federal Funding at Kean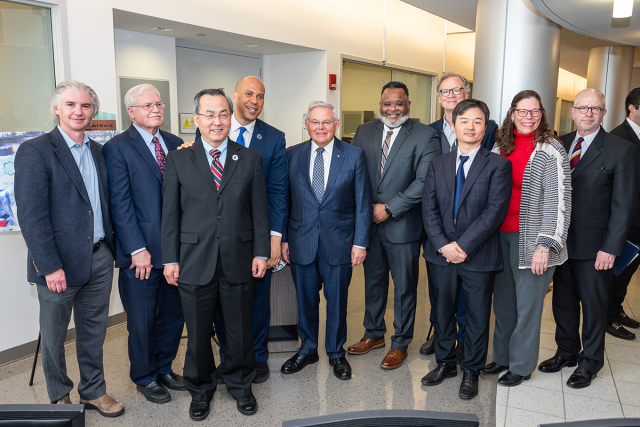 U.S. Sens. Robert Menendez and Cory Booker highlighted more than $18 million in federal funding they helped secure for New Jersey higher education during an event this week at Kean University.
Kean received $4.25 million in the $1.7 trillion dollar federal spending bill approved by Congress and signed by President Biden in December for programs that involve government, community and nonprofit partners. The funding will expand research facilities at the Institute of Life Science Entrepreneurship (ILSE) at Kean, broaden access to higher education for underrepresented students, and help revitalize a Trenton neighborhood.
"Senator Menendez and Senator Booker recognize the immense value of research and scientific discovery in advancing knowledge, solving problems, fueling innovation, and driving economic growth throughout and beyond New Jersey, and we're better for it," said Kean President Lamont O. Repollet Ed.D.
Menendez said through its partnerships Kean is "breaking the mold of a 21st century university." 
"These investments are a vote of confidence in Kean, a shining example of what a pioneering urban research university can do," he said. "These investments are a vote of confidence in the students and the faculty who will benefit from these investments and use them to better the communities long after graduation. And finally, this funding is a vote of confidence in the people who call New Jersey home."
Booker noted that together, he and Menendez brought more federal funding to New Jersey than any previous U.S. senators. He said they are guided by the question, "Where can we direct money that gets the biggest return?"
"When you empower this connection between academic institutions, private sector initiatives and government, you create extraordinary growth and change," Booker said. "When we apply our taxpayer dollars in this way, we get a multiplier effect of growth and opportunity to affect corners throughout our state, and, I would say, even beyond."
Thomas P. Richardson, Ph.D., ILSE president, thanked the senators and Kean for their support of the nonprofit, which is housed in Kean's STEM Building. ILSE received $2.5 million dollars in federal funding to expand its labs for biotechnology startups researching healthcare advances.
"With the incredible support from the senators, and the ongoing support from the University, we've hit a significant milestone in our own growth and development as an organization," Richardson said. "What we aim to do in the next several years is to create more jobs and companies, more opportunities for students, and provide an on-ramp for underrepresented students into the life science sector."
Hana Abouhaib, a Kean junior studying biology education who spoke at the Kean event this week, said they had an "amazing internship" at ILSE last summer where they were mentored and gained important lab skills.
"The experience with lab equipment – you don't really get that from anywhere," they said. "I have a lot of friends who are in different universities and the same major as I am, and they never had those kinds of experiences. I am proficient on so many different lab machines, and I am so grateful for it."