Wenzhou-Kean University Faculty Look Forward to Next Phase of Growth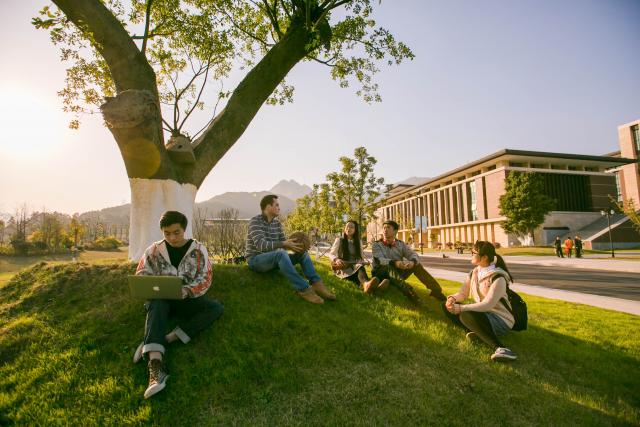 Wenzhou-Kean University is entering the next phase of its development as an international university of distinction after the Board of Directors recently approved a comprehensive employment package for faculty that will ensure WKU continues to attract and retain outstanding scholars from around the world.
More than 100 faculty from the United States, Asia, Europe and elsewhere will receive comparable salary in local currency, benefits, sick and vacation time, and relocation assistance under the agreement voted on unanimously by the board. The new agreement goes into effect for Fall 2019 when those faculty members will become directly employed by WKU.
WKU faculty members said they are excited to move forward with the University as it continues to evolve. More than 2,000 students from China, the United States and elsewhere are enrolled at WKU this fall and more are expected in the coming years.
"I'm very happy to be here," said Liam Duffy, an ESL and English lecturer at WKU. "The University is very professionally run and treats us well. The campus is getting better and better every day with all the new construction."
Faculty members said they are pleased that the board approved a comparable employment package so they feel confident about returning to the campus next year.
Rob Marjerison, Ph.D., an assistant professor of global business at WKU, said he has worked at international universities in several countries, including India, Korea and Mexico, and feels well supported at WKU.
"There are a lot of faculty here who have a great deal of international experience," he said. "One of the things that is critically important to many of us, especially the Americans, is health insurance. We have really good health insurance here and that's kind of unusual."
In his experience, Marjerison said it's more common to be paid in local currency, rather than American dollars, at international universities. "I've never been paid in U.S. dollars when working in a foreign country in higher education," he said.
Under the new agreement, WKU will make a conversion service available to faculty and ensure they are able to transfer their compensation to their home country without restriction.
"I feel very good about that," said Randy Clark, an assistant professor of design at WKU.
The agreement includes a tenure policy that mirrors the one at Kean USA. The tenure policy ensures that academic freedom will remain a core value at WKU.
Duffy said he encourages his students to speak up as much as possible. "Their high school education is quite different than what we offer so we have had to let them know it's ok to think critically and share their own thoughts, which they do appreciate," he said.
Marjerison said the VPN network on the WKU campus, which allows students to connect to the open Internet, is essential for research and fostering an open environment. "The VPN is a very big thing in China," Marjerison said. "It's unusual, and it's very important when it comes to academic freedom."
Kean University is the only public American university with a campus in China. Since the campus opened in 2012, the number of faculty has grown considerably and it has become more efficient to employ them directly by WKU. The new employment model is similar to those offered at New York University in Shanghai and Duke Kunshan University.
The board's new compensation package offers enhanced retirement benefits and multi-year contracts for WKU faculty.
Gaurav Gupta, Ph.D., an assistant professor of math at WKU, said the multi-year contracts will foster more long-term research on the campus. He conducts research with his undergraduate students on an ongoing basis. "They are very cooperative in doing research," he said. "I would compare them to master's degree students elsewhere."
Kean University retains full academic control over the English-speaking WKU campus. All curriculum, assessment and accreditation standards mirror those at Kean University and all senior-level academic managers remain Kean University employees.
"For students who see their bachelor's degree as a stepping stone to a master's degree in business abroad, this is a very desirable offering," Marjerison said." There is no direct competitor for that career path. This campus is unique."