About the Child Care Center
Mission and Philosophy
In conjunction with the Early Childhood and Family Studies program in the College of Education, the Kean University Child Care and Development Center demonstrates best early childhood practice inspired by the Reggio Emilia approach to education.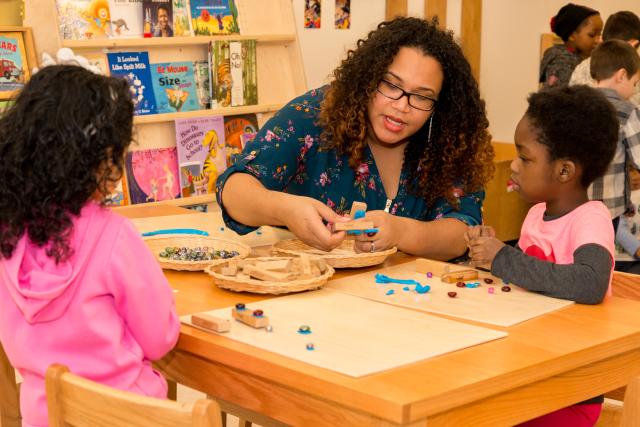 After World War II the citizens of Reggio Emilia, Italy, worked together to restore order and peace after the chaos they had experienced throughout the war. A group of parents in this small town in northern Italy dedicated themselves to social change in response to the horrors they had just lived through. They believed that focusing their attention on young children and their education was imperative. It was out of this focus and determination that the Reggio Emilia Approach to Early Childhood Education was founded. The first school opened in 1945 as a small, parent-run school in the town of Reggio Emilia. Within two decades, the city opened its first municipal preschool, and several years after that, in 1968, national legislation was passed that provided public funding for Early Childhood Programs. Today there are 36 preschools and infant centers in Reggio Emilia.
The Reggio Emilia Approach to education is identified by its emphasis on an aesthetically beautiful classroom environment highlighting natural materials, and an extremely high regard for children's capabilities and competency. Children are encouraged to create art and find beauty in the everyday. Their artwork is displayed prominently and with a great deal of respect given to it. A main part of a Reggio teacher's job is to document each child's work, both visibly in the classroom and in individual portfolios.
The Reggio Emilia Approach maintains that children learn best when they are able to experience the world firsthand, at their own pace, and on their own terms. Exploration of materials and environment is led by the child, with the teacher scaffolding instruction and learning alongside the child. The teachers pay extremely close attention to the children's interests. They record conversations and comments, and they later use this information to work with the children to create long-term projects that will extend upon the children's already existing knowledge and natural curiosity in a subject.
This approach recognizes that each child is a capable and competent learner, and respects his or her strong potential and individual interests. The staff at the Kean University Child Care and Development Center believes the purpose of early childhood education is to provide children opportunities to explore their interests and abilities, and develop skills they will need to become lifelong self-directed learners and citizens.