Why COVID-19 Vaccinations Matter
Benefits of Being Vaccinated
COVID-19 vaccinations are an important tool to help stop the COVID-19 pandemic. They help protect you from getting sick or severely ill with COVID-19 and might also help protect people around you. Not only do they give you peace of mind, but they also help you feel comfortable getting back to the things you enjoyed before the pandemic, like socializing with friends and family. 
Below is a graphic from the CDC with the latest recommendations for what vaccinated people can enjoy: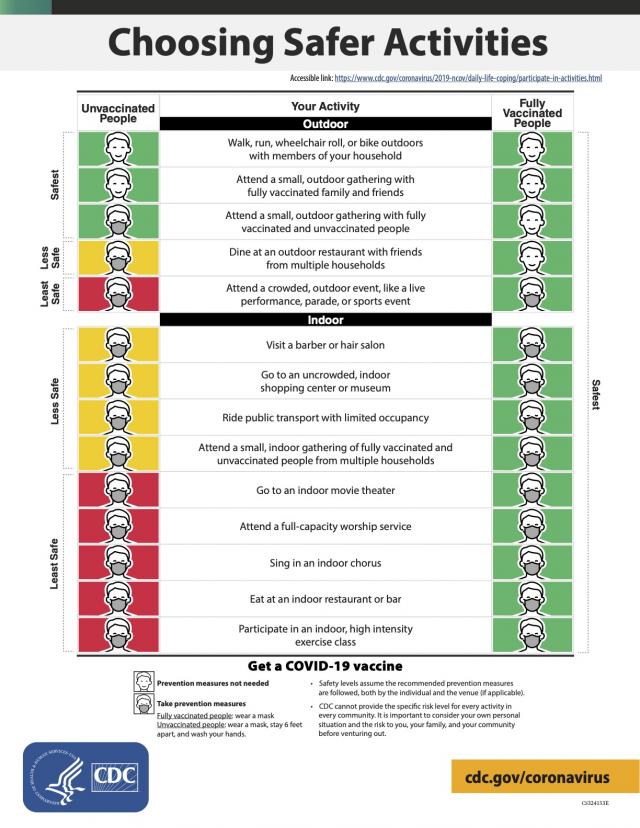 Addressing Your Vaccine Concerns 
It's natural to have some concerns and questions about a new vaccine. The University encourages you to do your own research from some of the reliable sources listed below. You'll find that research shows the current COVID-19 vaccines are safe and effective.
If you have any additional questions regarding the vaccine, please email VaxUp@kean.edu.
Myths Vs. Facts
Myth:The COVID vaccine can make me sick with COVID-19.
Fact:  The COVID vaccines that are approved for administration can not cause you to become infected with COVID-19. They do not contain any live virus. Vaccines are designed to help your body build a natural defense against the virus. In this process you may have symptoms similar to a mild flu. This could include body aches, headache or fever, which could last 24-48 hours.  Many people have more reaction to the second dose and should plan to have a lighter schedule for a couple days after receiving it. Having a little discomfort is a small price to pay for achieving herd immunity and ending this pandemic.
Myth:  The COVID vaccine will alter my DNA.
Fact:  There are two messenger RNA (mRNA) vaccines that are available today: Pfizer and Moderna. The mRNA, when delivered via vaccine, teaches our immune system how to create antibodies to fight the virus. This mRNA never enters the nucleus of our cells which is where our DNA exists. The mRNA actually breaks down pretty quickly once it has done its job of building our immune response to COVID-19.
The J&J Janssen vaccine is a one-dose vaccine that is a viral vector vaccine that uses a modified version of a different virus (the vector) to deliver the information to our cells. This allows our cells to create the spike protein similar to the coronavirus so our body can build an immune response. Viral vector vaccines do not interact with our DNA. The J&J Janssen vaccine had to be paused while the CDC investigated the potential for a rare blood clot, possibly as a side effect from the vaccine.  As of April 23, 2021 the vaccine is available again. Read more on the CDC's decision to make the vaccine available again. 
Myth:  I will test positive for COVID-19 after I get the vaccine.
Fact:  The tests that are available for COVID-19 detection look for active infection.  Therefore, since the vaccine causes your body to build antibodies, you will not have a positive COVID-19 PCR or antigen test as a result of getting the vaccine.  
Since the purpose of the vaccine is to create an immune response and build antibodies to COVID-19, you could test positive on an antibody test, which is a blood test.  Antibody tests are not used to detect active COVID-19 infections. 
Myth:  If I had COVID-19 I do not need to get the vaccine.
Fact:  At this time experts still do not know how long someone who was infected with COVID-19 is protected from reinfection or getting sick again.  Due to the severity of this virus, it is recommended that all individuals get vaccinated even if they have been diagnosed with COVID-19 in the past.  It is recommended that you wait 90 days after your positive test result before getting the vaccine. 
Myth:  The vaccine will affect my ability to have a baby someday.
Fact:  Any vaccine that is developed is studied for side effects and adverse outcomes for many years.  The current scientific evidence does not indicate that the COVID-19 vaccine will put someone who wants to become pregnant at any undue risk.  There is no evidence that the  antibodies that our bodies create in response to the vaccine cause any problems with pregnancy or fertility.  If you are currently pregnant or trying to get pregnant, you should discuss this with your OB/GYN.  
Myth:  The vaccine is expensive.
Fact:  The vaccine is free to all who are 16 and older regardless of immigration or insurance status.