Nicole Lee Schroeder, Ph.D.
Office Location
LHAC - 212H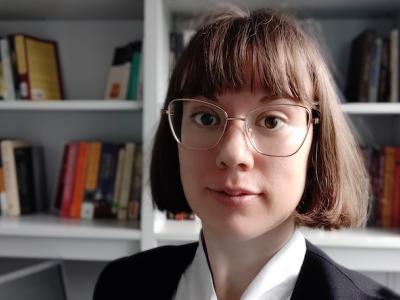 Nicole Schroeder, Ph.D., is a member of the inaugural cohort of Equity in Action Presidential Postdoctoral Fellows at Kean University in Union, NJ. She received her Ph.D. in Early American History in 2021 from the University of Virginia. Nicole is a historian of disability, medicine and welfare in early America. She studies processes of medical ableism and political disenfranchisement throughout U.S. history, with a particular focus on the intersectional relationships between poverty, disability, race, and gender. Over the past few years, Nicole's research has been funded by predoctoral fellowships from the American Philosophical Society, the Library Company of Philadelphia, and the Dolores Liebmann Fund Foundation. 
In her spare time, Nicole is also a disability rights activist and the founder of the DAC (Disabled Academic Collective). The DAC provides outreach and support to disabled faculty, staff, students, and independent scholars who identify as disabled. On social media, Nicole uses the DAC platform to talk about academic ableism and to raise awareness about issues of access and accessibility in higher education. The DAC also houses a website for outreach and resources, and maintains a private Discord server for disabled academics to secure support, community, and academic resources. If you're interested, please search for @DisabledAcadem on Twitter or Google "Disabled Academic Collective" to reach the DAC website.