Diversity, Equity & Inclusion Staff
Tamika Quick, Executive Director of Diversity, Equity and Inclusion
Alberta "Tamika" Quick is a first-generation college student born in Harlem, New York City and raised in Passaic, NJ.  She holds a B.A. in Marketing and Communications from Ramapo College of New Jersey, an M.A. in Counseling with a concentration in Student Affairs Personnel from Montclair State University and is currently pursuing her Ed.D. in Educational Leadership from Saint Peter's University. Over the course of the last sixteen years, Ms. Quick's areas of expertise have involved student activities, fraternity & sorority life, women's empowerment and diversity education. In 2017, Tamika became a Board Member for ACE Women's Network NJ. ACE Women's Network – New Jersey is a statewide organization committed to your professional development. As a Board Member, she is dedicated to identify, develop, encourage, support, link and help advance women in higher education. Last, but certainly not least, Tamika is also the proud mother of two children.
---
Stephanie Hernandez Rivera, Ph.D., Assistant Director, Diversity, Equity and Inclusion
Stephanie Hernandez Rivera, Ph.D., is a Boricua woman and first-generation college graduate. She holds a Bachelor of Arts in Early Childhood Education, Women's and Gender Studies, and Psychology from William Paterson University and a Master of Arts in Women's and Gender Studies from Rutgers University. She completed her Ph.D. in Educational Leadership and Policy Analysis from the University of Missouri in the summer of 2021. Hernandez Rivera has worked in the education field in some capacity for over 10 years. In higher education, she has focused her efforts on creating equitable and inclusive campus communities. Her research focuses on the experiences of those who are impacted by intersectional-marginalization and she is passionate about liberatory teaching and learning practices. She has supported the creation of a number of initiatives and executed a number of presentations, locally and nationally. In her free time she enjoys dancing, reading, listening to music, traveling, and spending time with family, friends, and her dog, Bowser.  
---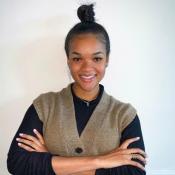 Erin Lester, Diversity, Equity, and Inclusion Program Coordinator for Student Affairs
Erin Lester was born and raised in West Orange, New Jersey. She holds a BA in Criminal Justice, Political Science and Women and Gender Studies from Rutgers University, New Brunswick. As a former national level athlete, captain and coach, Erin has committed to learning the challenges and successes of building a team. She has spent her early career improving interscholastic competition participation, recruitment and retention for youth sports with the American Volleyball Coaching Association. In 2019, she was nationally recognized and awarded for Improving Diversity in Coaching by her colleagues for her commitment to improving the landscape for athletes. Erin also created her own event planning and staging company Meraki meaning to do something with love, soul, creativity; to put something of yourself into your work. She plans to use her skills, education background and entrepreneurial knowledge to foster a culture of diversity, equity, inclusion and justice by improving systems to expose, attract and support our populations most inclined to experience prejudice, microaggressions and discrimination in the school and work environment by focusing on system to refine it.
---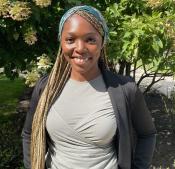 Ranella Peters, Administrative Assistant
Ranella Peters was born in Guyana and raised in Queens, New York City. She holds a B.S. in Directive and Interactive Marketing from Fashion Institute of Technology and a Masters in Public Administration from Baruch College. She has spent her early career leading and coordinating various service-oriented office's through administrative support to company owners and senior management. In her former position she coordinated a community initiative that offered tattoo removal to formerly incarcerated, former gang members and victims of trafficking. Through this role she worked to implement an equitable and inclusive culture within the company. She is eager to utilize her experience and education to support the Diversity, Equity and Inclusion office's mission through her role.  
---
Catricia Shaw, Managing Assistant Director and Deputy Title IX Coordinator
Catricia Shaw is a first-generation college student and is an alumnae of Kean University.  She has had extensive experience at Kean through the umbrella of Student Affairs, where she worked with Greek Life, Student Programming, Student Leadership programs and Student Conduct.  Catricia's most recent position has been in the Office of Affirmative Action Programs, where she works to promote social equity to ensure individuals have fair access to employment opportunities within the campus community that is free from discrimination.