College of Business and Public Management Gets New Home at Wenzhou-Kean University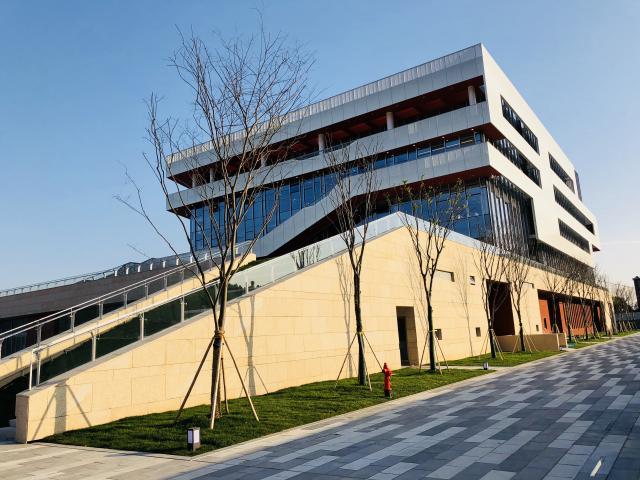 A new landmark College of Business and Public Management building opened to students at Wenzhou-Kean University this month, marking the latest addition to the growing campus in China.
The five-story, 140,000-square-foot-building offers architectural elements specifically designed to encourage student engagement and social interaction for the campus community.
"It is a high-tech building that blends into the surrounding natural scene, with terraces, a courtyard, an indoor fountain and a roof garden," said Tony Zheng, Ph.D., vice chancellor of Wenzhou-Kean University. "There are common areas for people from different programs to meet and work together."
The $17 million building has state-of-the-art technology and features an auditorium, exhibition area, 30 classrooms and office space. A plaza north of the building will serve as a social hub for the entire University.
"At Wenzhou-Kean, we are creating a unique university in China where campus life is as much a part of the experience as academics," said Dawood Farahi, Ph.D., president of Kean University. "The Global Business School building reflects both of those concepts – an active, engaged campus community with a world-class, cutting-edge education."
In addition to smart technology in each classroom, the building has a Bloomberg Business Terminal classroom where students will work on the Bloomberg business intelligence software that is the market standard in finance around the world.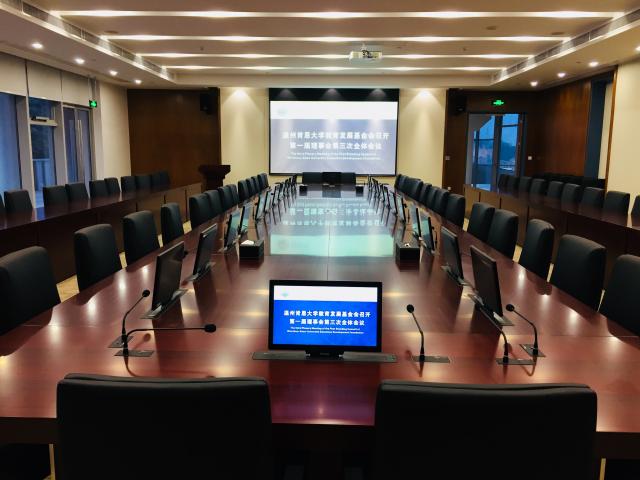 "It is a 21st century building with a corporate look very much like students would find at a financial institution in Shanghai or at the tech firm Alibaba," said Geofrey Mills, Ph.D., associate dean of the Kean University College of Business and Public Management. "For Wenzhou students, it will be an easy transition from this academic environment to a professional setting."
New faculty housing also recently opened this semester at Wenzhou-Kean. Landscaped into the side of a hill is a complex of eight buildings that have 72 one- and two-bedroom apartments. The $5.5 million project is expected to enhance faculty recruitment.
"The design concept for the Wenzhou-Kean campus emphasizes spaces as places for public activity and assembly. The buildings are not silos for isolated programs or purposes," said David Mohney, FAIA, the dean of Michael Graves College who is one of the overseers of the Wenzhou-Kean campus expansion.
Construction also continues on other projects at Wenzhou-Kean. Ge Hekai Hall, an academic building for architecture, design and computing sciences, is expected to open in late spring 2019, and new residence halls will be ready for students that fall. A student learning activity center and a new administration and admissions building are now in the planning stages and should be completed in two to three years.
Tagged