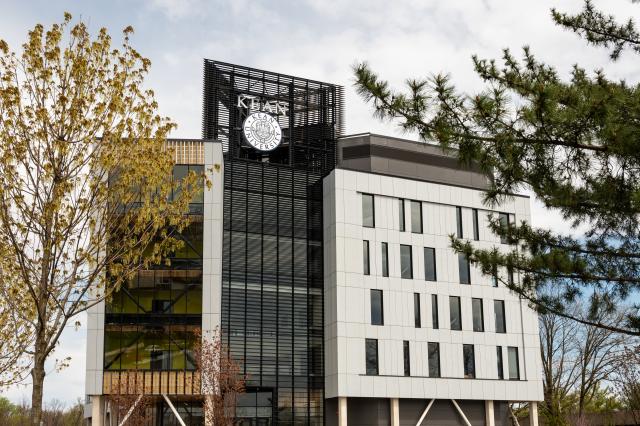 The new College of Business and Public Management building rising on Morris Avenue on the main campus in Union has a name, Hynes Hall.
It will bear the name of Jim Hynes, a 1963 Kean graduate, and his wife Carole, who announced a significant contribution toward the development of the Global Business School's new academic facility late last fall.
Jim Hynes built a successful plastics business after graduating from Kean's predecessor, Newark State College, with a degree in industrial education. He credits Kean with giving him the education and tools he needed to achieve his professional goals.
"I want to give back," Hynes said. "It's that simple. I am so driven to pay back to a school that gave me a chance. I had a lot of confidence in my ability, and Newark State gave me the opportunity to find myself, to identify myself, and to know that I had what it takes to get into the business world."
The Hynes name is already well-known on campus. There is the Jim Hynes '63 Baseball Stadium and the Carole Hynes Field House.
The new building will be Kean's most spectacular yet. The 90,000 square foot structure will house all of Kean's undergraduate and graduate business programs, as well as a wide variety of state-of-the-art resources, including smart classrooms and study lounges; a "Bloomberg room" where students can work on the Bloomberg business intelligence software; a virtual "library in the sky," and a rooftop deck with a view of New York City.
"Our business and public management programs are growing exponentially, and the quality of our programming surpasses the competition," says Kean University President Dawood Farahi, Ph.D. "Now, we need to provide the facilities to raise these programs to the next level. Our students are excited, our faculty are excited, and our community is excited to see this new facility take its place at Kean USA. Great things are happening on our campuses, with the support of generous alumni like Jim Hynes."
Over the past five years, enrollment in Kean's business program has increased by 16 percent on all campuses, with a 29 percent increase at Wenzhou-Kean University and a nearly 12 percent climb at Kean USA. Today, more than 4,860 students are pursuing business degrees at both the undergraduate and graduate level.
"The new facility is the next logical expansion of the University's business programs, and it will strengthen the growing campus community located on the Liberty Hall side of Morris Avenue," said Ada Morell '00, chair of the Kean University Board of Trustees.
The new Global Business School building will sit on land formerly owned by Merck and adjacent to a new "mixed-use" neighborhood currently under construction. That development combines plans for more than 450 housing units with new retail and recreational space. 
Hynes Hall, being built by Natoli Construction Corporation of Pine Brook, is expected to open in Fall 2020.