Composing Career Takes Kean Music Education Graduate from Marching Bands to the Red Carpet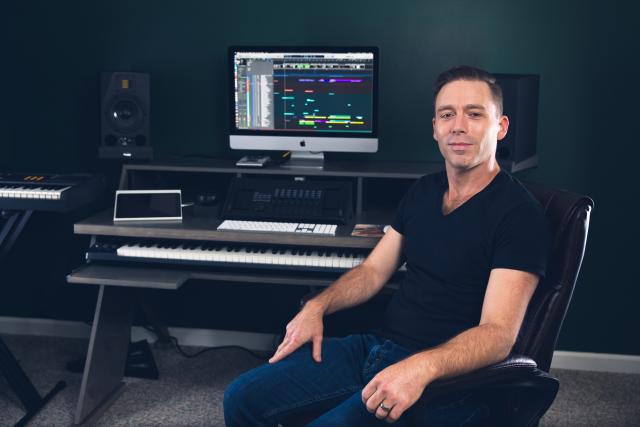 Colin Bell says he has music in his genes.
His grandparents, father, uncles and aunts were Scottish drummers and bagpipers, whose Sayreville, New Jersey pipe band helped popularize Celtic music in America.
"It was the first music I heard as a baby," said Bell, whose father was among his earliest drum instructors. "It's my backbone, like musical DNA."
Bell embraced his musical heritage for his own career. He earned a B.A. in music education from Kean University in 2005 and, after graduating, joined the music faculty of his alma mater, Old Bridge High School. He has also become a prolific composer – first for marching bands, and more recently, for movies and other screen projects.
In 2015, singer and percussionist Janina Gavankar asked him to arrange a pop song, drumline-style, for a music video. After that, Gavankar commissioned Bell to arrange a Prince song and perform it with her and QuestLove at Carnegie Hall.
Bell currently is composing the soundtrack for a movie by New Jersey filmmaker Maurice Paramore and the music for a science fiction podcast, Echoes, produced at director Khoa Le's studio in Jersey City. He previously worked with Le on Bezos: The Beginning, a film about entrepreneur billionaire Jeff Bezos.
Le described Bell as "a great musician" who is "open to ideas and is extremely collaborative."
"Colin is going to be big in the industry, and I'm lucky that I got to work with him," Le said.
Bell began composing music for New Jersey marching bands as a teenager. A sample percussion lesson he took with Jim Musto, Kean's director of percussion studies, in his senior year of high school convinced him to continue his music education at Kean.
Musto said he recognized Bell's talent immediately.
"I knew this was the music student I wanted to represent Kean University," Musto said. "I came to the realization I had a very serious responsibility in providing him with the best education possible."
While he was a Kean student, Bell toured with the Boston Crusaders Drum and Bugle Corps during the summers. He also took private composition lessons with Matthew Halper, DMA, Kean professor of music.
"I had very successful, very intelligent people guiding me, and I believe that if you surround yourself with people like that, it's going to rub off on you. That happened for me at Kean," Bell said.
Over two decades, Bell also played with the band Echo Movement, helping it expand from a four-piece cover band to a seven-piece reggae group with five albums. He also wrote for professional drum corps, and played in community theater pit orchestras. 
"That was just as formative as Kean for me," he said. "I learned a lot about business and networking."
Now, as a 41-year-old husband and father, Bell is redefining himself again. He's still teaching, but after remotely earning a master's degree in film scoring from Boston's Berklee College of Music this spring, he's adapting his composing skills to his new film projects.
"Writing for school bands was about composing fancy music to show off players' virtuosity," Bell said. "Film music is about stripping layers down and supporting what's happening on the screen."
Bell credits Kean faculty for advising him to diversify his musical career, and his professional network for helping him find many opportunities to play and write. He said he plans to return the favor by hiring local musicians to collaborate with him on projects.
"I want to raise up our state," he said, "because we have tons of talent."