Kean Earth Science Graduate Takes Meteorology World by Storm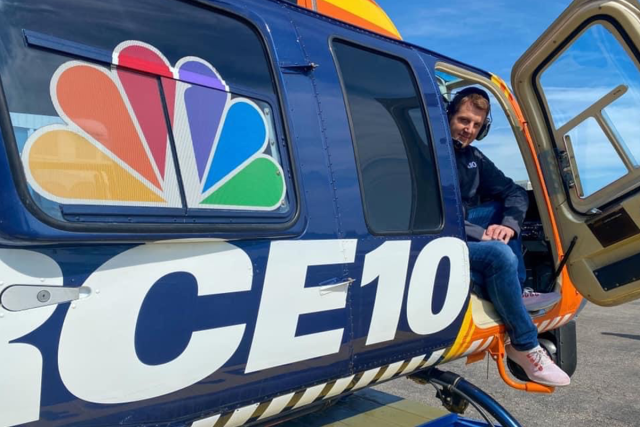 After seeing lightning strike when he was 4 years old, Steve Sosna spent his childhood mesmerized by storms, even turning down the volume on the TV and delivering the weather forecast himself.
His passion for the weather led him into meteorology and, in 2017, to his home state of Pennsylvania and the Philadelphia studios of WCAU-TV, NBC10.
"I enjoy sharing my knowledge," said Sosna, a Lansdale native who earned a bachelor of science degree in earth sciences from Kean University in 2008 with a concentration in meteorology. "It's a way of creating connections about something we all share."
Like the weather, Sosna's job can be mercurial. He may be sent to the Poconos to report on the opening of ski season, to North Carolina to cover a major storm, or into the local community to participate in roundtable discussions about how to better prepare residents for the impacts of climate change on their families and the infrastructure around them.
His focus is giving locally tailored forecasts on NBC10, KYW Newsradio and social media, providing more consistency than weather apps and fuller explanations of the "why" behind atmospheric events.
He's aided by technology he developed for NBC10: augmented reality that conjures 3D graphics, and StormRanger, a mobile dual polarization X-band Doppler radar system that enables precise, potentially life-saving storm information for specific neighborhoods in danger.
Along with colleagues, Sosna won a national Emmy for StormRanger and a regional Emmy for lifesaving warnings and safety tips as tornadoes struck during the remnants of Hurricane Ida.
"Steve Sosna is one of the most dedicated and enthusiastic meteorologists I've worked with in my 50 years as a meteorologist," said Glenn "Hurricane" Schwartz, retired from NBC10. "He continues to search for ways to improve both as a forecaster and with weather graphics. He has become the go-to person on severe weather, performing his best when the weather is the worst."
As a sophomore at Kean, Sosna was hired as a part-time weather producer at New York City's WNBC-TV. Later, he freelanced at News 12 in Connecticut and Long Island before going on air at a small station in Austin, Minnesota, and then at its Minneapolis sister station.
In 2011, he returned to WNBC-TV as a senior weather producer, covering events such as Superstorm Sandy behind the scenes, but also appearing on shows including Andrea Mitchell Reports, The Last Word with Lawrence O'Donnell, Meet the Press Daily, and MSNBC Live.
His move to Philadelphia landed him on the air full time and brought him closer to his family, but uprooted his New Yorker husband, Jonathan Lovitz, a senior vice president with the National LGBT Chamber of Commerce and a consultant on advocacy to businesses and organizations. "He not only handled it well," Sosna said, "but has helped me navigate the highs and lows of television by teaching me to self-advocate."
When not working, Sosna — who said his fascination with weather helped him endure bullying and financial struggles as a teenager — acquaints underserved and LGBTQ students with meteorology.
"I promised myself that if I made it to my dream, I would be open with kids so they would know they can do this," he said.
Sosna credited Kean's "little program that could" with setting his path to success. At Kean, seasoned professors provided rigorous scientific coursework while teaching him to incorporate humanity into meteorology, from being honest with audiences about uncertainties to responding to angry emails, he said.
Retired Kean Associate Vice President for Academic Affairs Paul J. Croft, Ph.D., remembers Sosna as a career "top-10" student who was inquisitive and passionate. "It's a joy to see him in action as a professional providing critical information to others," Croft said.
Because meteorology is quickly evolving, Sosna suggests that today's students cultivate curiosity and flexibility.
"Push past your comfort zone, be vulnerable, ask for help, and never give up on your dream," he said. "You can always figure out a way to make it happen, but you've got to find the right people along the way and keep them close to you."
Tagged