A Costa Rica Discovery for O.T. Students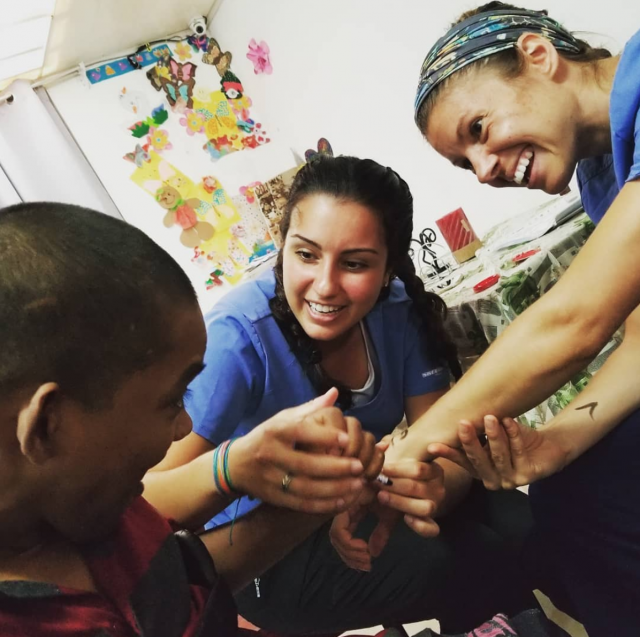 Four occupational therapy students at Kean decided to postpone their final fieldwork on the path toward graduation so they could spend more than two weeks volunteering their healthcare skills in Costa Rica on a TraveLearn adventure.
"In Costa Rica, we had this, 'aha!' moment. We knew that this is why we do what we do," said Valerie Hengemuhle, one of the students. "We learned the art of flexibility, of using non-verbal cues in treatment, always being respectful of a client's culture and treating the client as an individual."
Hengemuhle, Nicole Sociedade, Chrissy D'Amico and Larissa Fox worked with the academic fieldwork coordinator in the master's in occupational therapy program to postpone their fieldwork, and headed to Costa Rica this past summer.
The students arrived in San Pedro believing that they would be working with children. They were surprised to learn that they would work with senior citizens the first week, and two adult men in wheelchairs the second week.
"Costa Rica was a humbling experience. We had to adapt to language and resource barriers," Sociedade said. "It made us be creative in our ideas and volunteer services. I definitely believe I came back a better me from my services and the people I met, with a stronger future in O.T."
Kean University offers study abroad opportunities and TraveLearn options in more than 60 countries.
"The experience of these O.T. students in Costa Rica shows the value of TraveLearn programs and of studying abroad," said Jessica Goldsmith Barzilay, acting director of the Center for International Studies. "It challenges students to work outside their comfort zone and see their education from a new perspective. That's especially helpful in the increasingly global job market."
Despite the delay in starting their final semester, the four students are on track to graduate in December. After graduation, they hope to give back to Kean students.
"We think we can develop some sort of study abroad program to bring O.T. students on and have them learn the way we did," said D'Amico. "It will have to wait until we are licensed and start working, but it's definitely something that we want to make happen for sure."
To learn more about Kean's study abroad and TraveLearn opportunities, visit the International Education website.