Cougar Hall Welcomes Its First Residents
Cougar Hall, the University's newest residence hall, opened for the fall semester along Cougar Walk in the heart of Kean's Union campus.
The six-story residence hall will be home to more than 380 freshmen living in two-bedroom suites with shared bathrooms and kitchenettes. The building boasts a brick, glass and steel design and a distinctive slanted roof. It has a business center, common areas, a community kitchen and study spaces for its residents.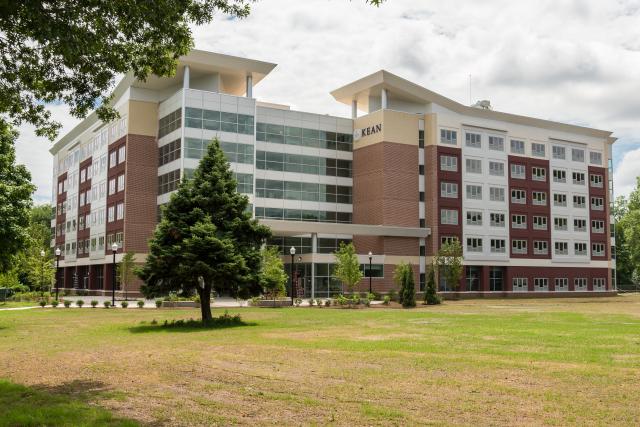 Maximina Rivera, Kean's assistant vice president for residential student services, says Cougar Hall and the six other residence halls on campus provide a home away from home for about 2,100 students, or about 13 percent of the University's student body.
Mia Hernandez, 18, a freshman and as an athlete, one of Cougar Hall's first residents, said to her it already feels like home. The student said she and her teammates on the Kean field hockey team used the community kitchen to bake brownies.
"It's like I was in my own kitchen at home," she said, explaining that she and her teammates brought baking pans and brownie mix to use in the first-floor kitchen. "I have a lot of excitement for the year that's to come," she said.
Jason Giresi, 19, and Nick Johnson, 18, both Kean football players and residents of Cougar Hall, said the suites are large and the dorm has lots of places for students to meet.
"I think it's going to be cool," Jason said.
Studies show that students who live on campus during college are more likely to graduate in four years. They have more access to campus services, feel more connected to the university community, and tend to have better grades.
Janice Murray-Laury, vice president for student affairs, said living on campus gives students a chance to develop their independence.
"There's the academic learning experience in the classroom, and there's learning outside of the classroom," she said. "This is the time students are strengthening their values. They're coming out of their comfort zone."
The extra amenities in Kean's residence halls, such as tutoring and kitchens, only add to the positive effect of living on campus, Rivera added.
 "If a student says 'my mom makes a wonderful empanada dish, I know how to do it and I'd like to go ahead and make it,' they can," Rivera said. "We want to give students flexibility."
New Freshman Residence Hall, the other home to first-year students, opened in 2009. Two older residence halls, Whiteman and Dougall, have been closed.
Tagged