Hard Work and Networking Launch Math Grad to Career of His Dreams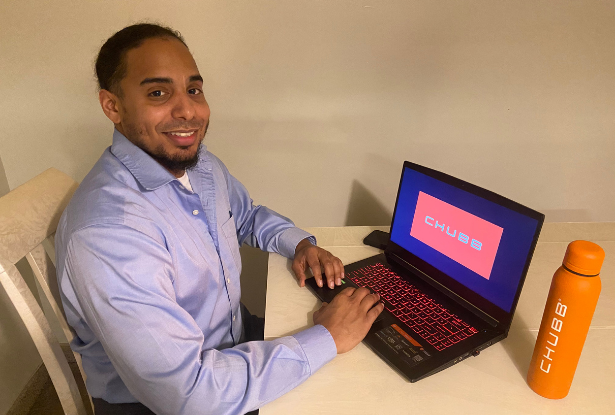 Angel Rivera didn't always have a career path in mind, but that changed for the Class of 2021 graduate when he enrolled at Kean Ocean and became a math major. 
The first-generation student from Toms River earned his bachelor's degree in mathematical sciences in January and is now on his way to a high-paying career as an actuary.
"Everything about the career is like a dream," he said. "I love it. It sounded too good to be true until you actually walk that path, and you see that it's not too good to be true. But it does take a lot of work to get there."
Actuaries evaluate risk using mathematical, statistical, economic and financial analyses. Rivera is working now as an actuarial trainee for Chubb in Whitehouse Station, New Jersey, a job he started immediately after earning his degree. He analyzes auto insurance risk for the company, which it uses to set premiums and make other business decisions. 
In Fall 2020, Rivera had a virtual internship with Everest Reinsurance Company. While studying at Kean, he also passed three of the Actuarial Exams required to become an associate actuary and is studying for his fourth exam. After achieving that milestone, he said he will then take the exams to become a fully qualified actuary, known as a fellow. The challenging exams have a pass rate of 30-40%, so Rivera said he always prepares extensively.
"I studied for my first exam every day for two months," he said. "When I passed, I said, 'Yes!'" 
Rivera began college in New York as a management major but said he did not have a clear picture of what he wanted to do as a career. He transferred to Kean Ocean, and a professor suggested that he look into becoming an actuary. From there, Rivera did his homework, which included networking. He attended a Society of Actuaries Candidate Connect seminar, where he got help with his resume. He spoke with people working in the field, and he attended a presentation at Kean's Union campus by an actuary from Prudential. 
"I was the only one who asked so many questions," Rivera said.
He then arranged to meet with the Prudential actuary at a Starbucks near his office to get additional one-on-one coaching. 
Rivera also reached out to the Organization of Latino Actuaries where he got interview tips and more advice. He knows he is a role model for Latinos and others interested in being an actuary, but he said his advice extends to any career.
"The best advice I can give to anybody is to try to find someone who is actually where you want to be and ask them as many questions as possible," Rivera said. "And don't be shy about it."
Louis Beaugris, Ph.D., executive director of the School of Mathematical Sciences, expects more Kean graduates to follow in Rivera's footsteps.
"Our program offerings in mathematical sciences, especially our newest degree options in actuarial science and data analytics, are consistently on the list of top jobs with high salaries," Beaugris said. "It shows that we offer our students high-quality academic programs which give them access to lucrative careers. In addition, we cultivate a nurturing environment that contributes to student engagement and success."
Rivera is grateful for the support he received from the math department.
"I thank everyone who helped me along the way. Without them, I wouldn't be here," he said. "Ten years from now, I would like to go to seminars and give advice to those who want to become an actuary, to give back."