From Howard Stern to TikTok: Kean Communication Grad Finds Her Career in Media Sales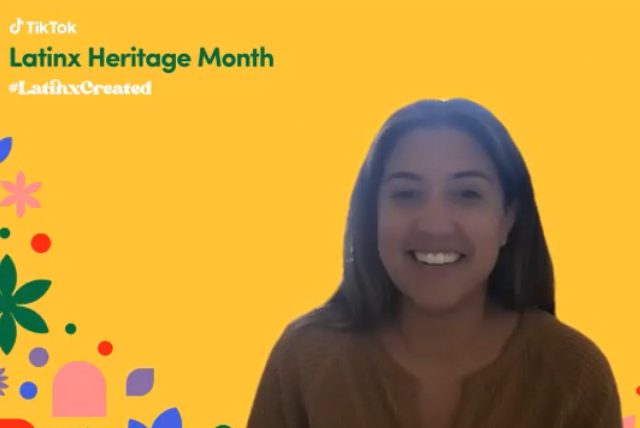 Michelle Soriano's resume reads like a list of top media companies: TikTok, CBS, Sirius XM, and The Howard Stern Show. 
Now a senior account manager at TikTok in Austin, Texas, Soriano loves her career in media sales. She calls it the perfect career for "people who enjoy communicating and want to connect and help each other out.
"You get to work with the members of so many cross-functional teams," Soriano said. "It can get hectic, but not every day is the same and that keeps the job interesting."
At TikTok, Soriano works to help small to medium-sized businesses optimize their ad campaign performance.
"I work with a lot of mom-and-pop shops that aren't necessarily at the growth level like some of the bigger clients," she said. "I'm here to make TikTok the platform that helps them expand, and I take that responsibility very personally."
Soriano intended to go into the film industry after graduating from Kean University in 2014 with a B.A. in communication, but she changed direction after an internship at Sirius. Colleagues helped her land a part-time job as a board operator for the company's sports programming channels, which involved monitoring live feeds to ensure paid promotions made it into broadcasts at the right times.
Soriano next spent three years at CBS Interactive as a digital sales planner and then an account manager. She transitioned into a similar role at Red Ventures after her CBS team was purchased. 
Then, looking for an opportunity to increase her skills, she joined TikTok in May 2021.
TikTok has recognized her contributions, honoring her with a "Byte Style" award for using her product expertise to mentor a co-worker through a key sale, she said. "For me, that was a huge success as well as a chance to help out a colleague in selling an enormous opportunity to one of their clients," Soriano said.
Outside of work, Soriano also gives back to the Austin community. This past fall, she helped local businesses recognize National Hispanic Heritage Month through their TikTok accounts — a project that meant a lot to her as a first-generation Hispanic American.
She also participates in TikTok's volunteerism for the homeless, and volunteers on her own with Planned Parenthood.
Soriano, who is the first in her family to graduate from college, said she sees the difference an education can make, including in finding advisors to help guide career choices. 
"When I started applying for internships, I was really lost," she said. "I didn't know where to go or what to do with my degree. My Kean advisors helped me find an internship and opened me up to exploring all my options."
Department of Communication, Media and Journalism Professor Brian Oakes, an advisor to Soriano during her years at Kean, remembers her as a "dedicated student who worked well with others, with a kind demeanor and a positive outlook."
"At Kean, we prioritize internships for our students because we know it can make a difference as they launch their careers, as it has done for Michelle," he said.
Soriano advises students to seek networking opportunities with fellow alumni, create solid LinkedIn profiles early on in their careers, and reach out to professionals who may be able to help.
"I get a lot of direct messages from students and recent graduates on LinkedIn looking for an opportunity or just advice," she said. "Not everyone will respond, but the likelihood is that somebody will."
Tagged