Kean Biology Graduate Encourages Diversity in Medicine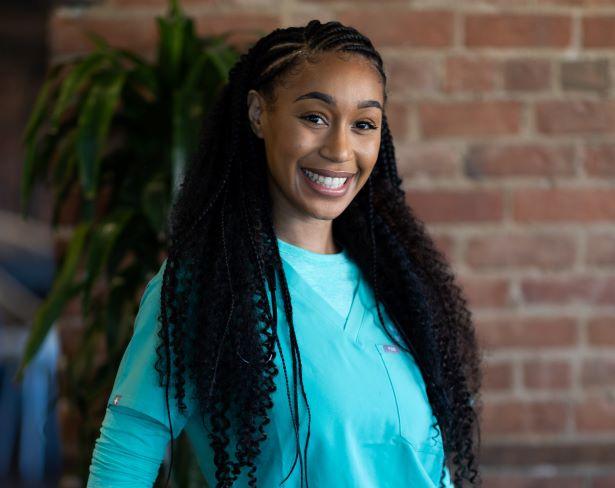 If she hadn't been hospitalized with mononucleosis at 12 years old, Nia Phillips, DMS, may never have become a physician assistant.
She was so impressed by her nurses that she started considering a medical career. Two years later, at age 14, the South Jersey native volunteered to oversee a hospital's surgical waiting room and "realized I couldn't see myself doing anything else."
Phillips entered a six-year cooperative program to become a physician assistant (PA), starting at Kean. She earned a bachelor's degree in biology at Kean in 2014, and a Master of Science in physician assistant studies at Rutgers University in 2017 under a cooperative agreement Kean had with Rutgers before launching its own PA program in Fall 2021. 
Last year, she upped her skill set further by earning a Doctor of Medical Science degree from Lincoln Memorial University (LMU) in Tennessee.
"I love seeing patients, and the job allows you to earn a great salary, climb the ladder in a hospital and teach others. I truly enjoy what I do," she said.
Phillips works at the University of Vermont's Alice Hyde Medical Center in Malone, New York, a rural area where healthcare providers are scarce. She treats children and urgent-care patients. 
"Kids are incredible, loving, forgiving, compassionate and empathetic. They are literally the best thing about the world," she said.
Phillips is passionate about the topic of diversity within medicine. With a friend, she co-hosts the podcast Cure the Culture. She teams up with licensed social worker Eboni Gadsen on the broadcast to empower Black listeners to pursue healthcare careers and learn how to advocate for themselves and loved ones in the healthcare system. 
"The more marginalized a community, the harder it is for patients to understand what their physician is saying," she said.
Her interest in diversifying health care got its start at Kean. As a student, she served as a resident advisor, general education mentor and biology lab assistant in zoology.
"I got to see Black people in leadership positions, more than I'd ever seen my entire life," she said. "When you see that, you start to think, 'Why can't that be me?'"
Her advocacy is a constant in her career. In her doctoral dissertation, Phillips wrote about improved health outcomes for Black patients with Black healthcare providers. She also plans to begin lecturing at LMU in her free time, initially on "how to be an affirming healthcare provider to people of different races and religions."
Phillips said working in pediatrics offers her another chance to make a difference in the lives of her patients.
"Pediatricians are so undervalued, but they are the heart of a community. When they do their job right, they can change the whole family." she said. 
At Alice Hyde Hospital, pediatric attending physician Julia Ordonez, M.D., says the hospital is "lucky to have her."
"Nia is hard-working, knowledgeable, jovial and kind," Ordonez said. "She has never stopped learning, and she completed her doctorate while working full-time. Her drive is incredible, and her youthful energy and enthusiasm are infectious."
Prior to joining Alice Hyde Hospital, Phillips' career included working at Covenant House in New York City, which shelters and cares for homeless and trafficked youth.
"They had some of the best, well-intentioned nurse practitioners and physicians I've ever worked with," she said, calling it one of her favorite positions. "It was such an amazing thing to be a part of."
She left Covenant House in February 2021 to join her husband, Charles Thomassin, in Montreal, Canada. She's now living and learning French on one side of the U.S.-Canadian border and working on the other.
Phillips hopes her career inspires today's students. She advises them to build support networks and "never, ever give up on yourself."
"The dream is attainable," she said. "No matter what you look like or where you come from."
Tagged