Kean Celebrates Graduate Commencement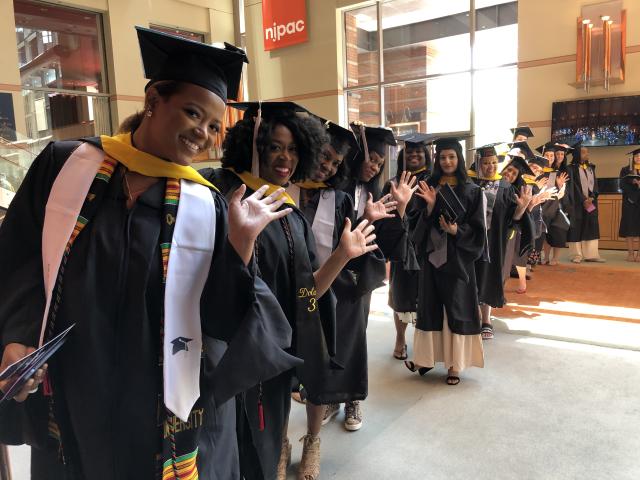 As a packed house of friends and family watched and celebrated in the New Jersey Performing Arts Center in Newark, Kean University conferred graduate degrees on 755 students at its festive Graduate Commencement today.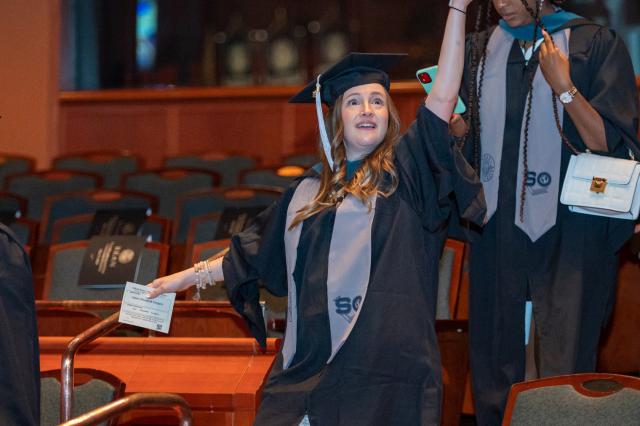 The sounds of Pomp and Circumstance filled the soaring NJPAC auditorium as the graduates marched in to take their seats. Family and friends snapped photos and took cell phone videos, and showed off pride in their graduates with festive signs, balloons and flowers.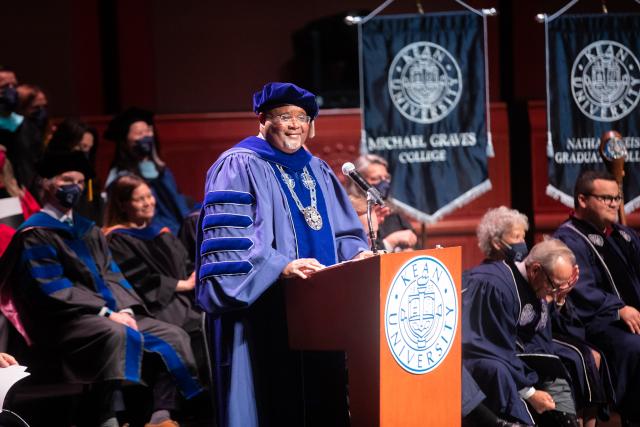 "Cougars, you represent the values of Kean University put into action. You contributed to Kean's legacy that honors diversity in all its forms, prioritizes equity and inclusion, and amplifies the voices of everyone in the community. Each of you has earned a degree that, together, will change the trajectory of your lives, and the lives you touch," said Kean President Lamont O. Repollet, Ed.D., who delivered his remarks following a welcome by Kean University Board of Trustees Chair Steve Fastook '06H.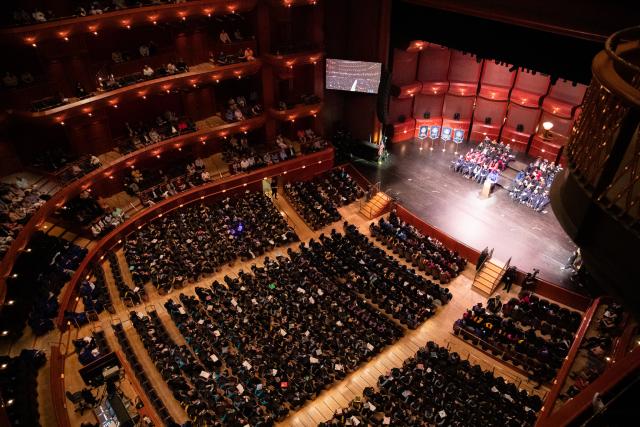 The Graduate Commencement is Kean's first full in-person ceremony since the pandemic struck in 2020. For the past two years, Kean held smaller, in-person graduation ceremonies on its Union campus, to allow for social distancing and other COVID-19 precautions.
To reach this milestone, the 2022 graduates powered through remote classes, mask mandates and socio-economic impacts of the pandemic. The mood at the ceremony was festive as graduates celebrated the well-earned moment.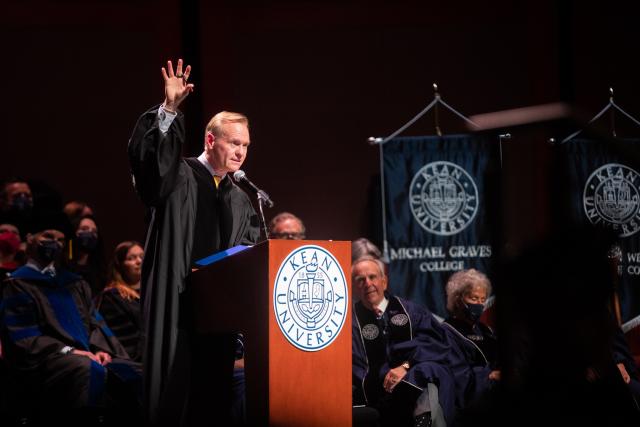 CBS News Chief Political Analyst John Dickerson gave the commencement address. "By being here today, you have already shown that you can achieve in difficult times. You were up to the challenge. Do honor to the version of you who worked so hard to get here today. Mark today as a day of meaning that will feed you and the rest of us for your whole life," the journalist said.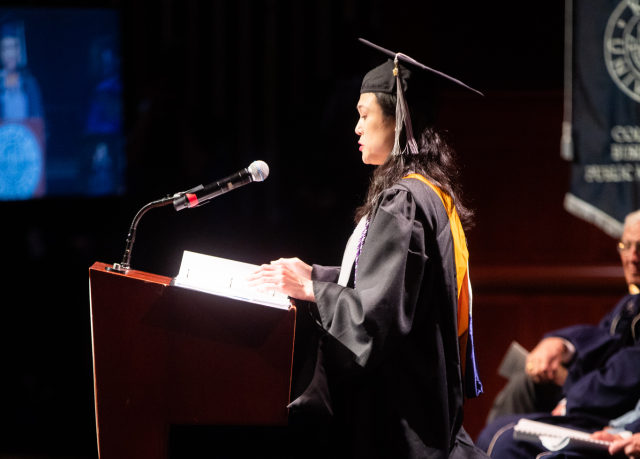 Two student speakers addressed their fellow graduates. Stephanie Lo '22 received her Master of Nursing Science - Community Health Nursing degree. Tanvi Tandan '22, who earned a Master of Public Administration degree, is also the president of Graduate Student Government. "Some of us may aspire to make great change; others have quieter ambitions. Regardless, we are now in the position where we can inspire others and perhaps make a difference that will help shape the future. I cannot wait to see what the next chapter has in store," Lo said.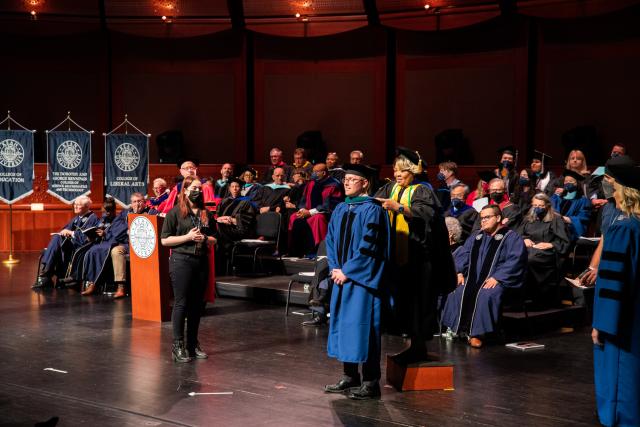 Following a vocal performance of the Kean University Alma Mater, the conferral of degrees began. One by one, students crossed the stage as their names were called, each reveling in the moment of accomplishment. Thunderous applause rolled through the auditorium following the presentations.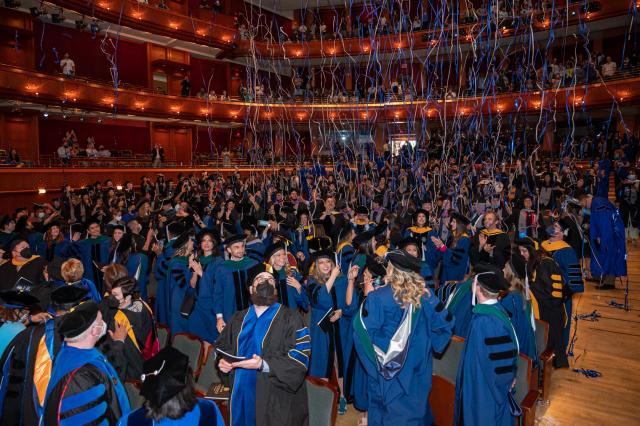 Nathan Weiss Graduate College Dean Christine Thorpe, Ed.D., told the Class of 2022 that they are "the most unique graduating class of all" – 26% are first-generation graduates to earn graduate degrees; 77% are women; 46% are from underrepresented minority groups; and the graduates come from 22 countries.
"All of these facts speak to the beautiful diversity we are so proud of at Kean University, a tapestry skillfully woven that is embodied in the Class of 2022," she said.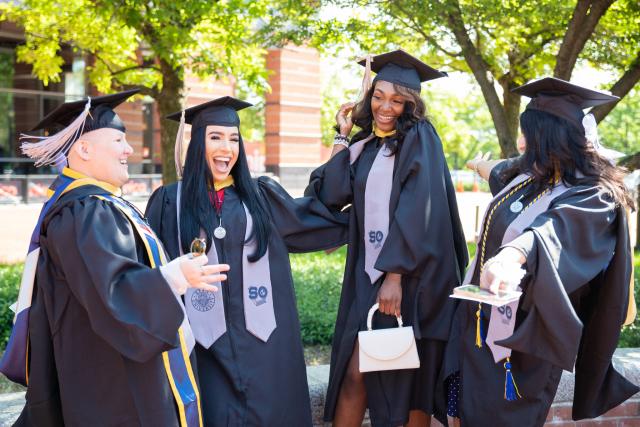 The graduates are Kean's newest alumni. The University will hold its Undergraduate Commencement this week, on Thursday, May 19, at the Prudential Center in Newark.