Kean Celebrates Honors Graduates at Convocation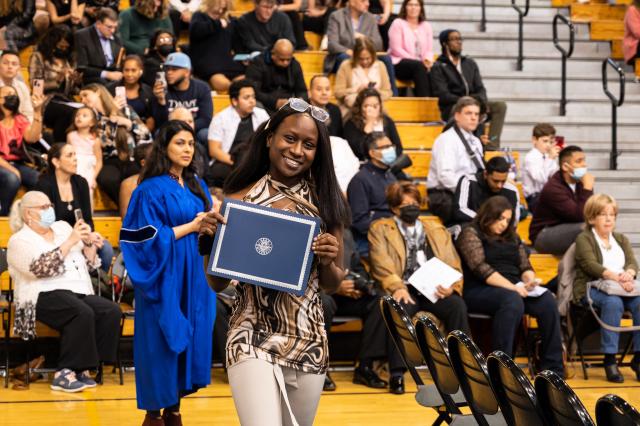 Kean University honored its highest-achieving 2022 graduates at Honors Convocation on Friday, May 6, recognizing the undergraduates' commitment to hard work and excellence as the University prepares for Commencement next week.
A total of 1,118 Kean Class of 2022 undergraduates earned an honors degree, having reached the University's highest levels of distinction.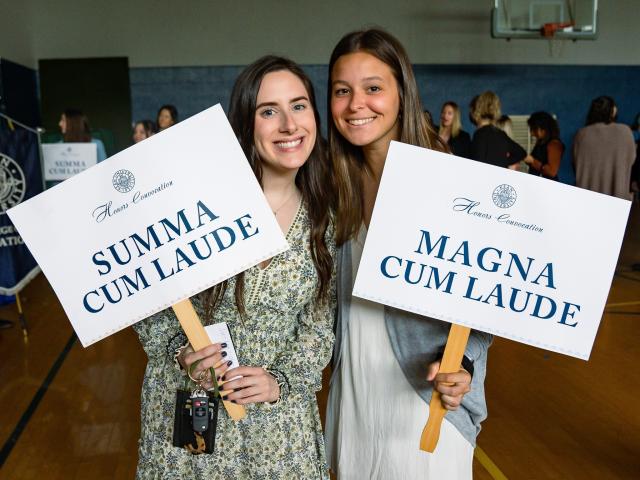 As proud families packed the bleachers at Harwood Arena for the Convocation, snapping pictures and taking cellphone videos, beaming graduates marched into the arena and later crossed the stage when each name was called.
"Today's milestone is proof that putting in the work and always reaching toward your fullest potential pays off," said Kean President Lamont O. Repollet, Ed.D., who led a group of dignitaries that included Kean Board of Trustees Chair Steve Fastook '06H; Kean Provost and Senior Vice President for Academic Affairs David S. Birdsell, Ph.D.; and Keynote Speaker RaJade Berry-James, Ph.D., chair of the faculty at North Carolina State University and a Kean graduate. Also sharing the dias was Class Salutatorian Zachary Noll and deans of the various colleges at Kean.
"You, the members of the Class of 2022, have achieved the distinction of graduating with honors during what were tumultuous times," Repollet said. "You lived through a worldwide pandemic and its social-economic impact, factors that could have upended your college career. 
"Through your efforts as a Kean student, you have proven to all of us, but more importantly, to yourself, that you have what it takes to make it in a complicated world," Repollet said.
The ceremony began with an introduction by Birdsell and a performance of the National Anthem by members of the Kean University Choir. 
Following Repollet's remarks, Fastook told the graduates "how incredibly proud we are of all of you." He also welcomed them to the ranks of Kean alumni.
"Don't forget Kean University," he said. "You are going to be part of our alumni from now on. Congratulations to all of you. You are amazing."
Class salutatorian Noll, of Dover, Pennsylvania, is graduating with a 4.0 GPA in science technology - biomedicine from the New Jersey Center for Science, Technology and Mathematics (NJCSTM). A student-athlete who is heading to medical school, Noll thanked his parents, professors, coaches, teammates and peers for their support.
"It's our turn to leave the legacy we will talk about for the rest of our lives," he said.
Berry-James, who earned her Master of Public Administration degree at Kean and also worked and taught at the University, also spoke of legacy, and the impact that Kean professors and experiences made on her life.
"Everything I am and always wanted to be, I learned at Kean," she said. "The master's program at Kean taught me a lot about honor, service and commitment, and helped transform me into the person I am. My legacy is a legacy of Kean University."
She called on the honors graduates to be "someone who motivates others to change."
"I see an entire convocation of influencers when I look at you. I know that you are going to use your skills and abilities to make the world better than you found it," Berry-James said.
Following the ceremony, graduates met up with friends and family who had come to share their moment.
Among them was Kevin Parra, of North Plainfield, who is graduating cum laude with a degree in computer science, information system option. He is continuing on to graduate school at Kean. 
Parra said graduating with honors took "a lot of dedication, a lot of focus and concentration." His mother, Doris Parra, speaking in Spanish that was translated by her son, said her feelings were "hard to explain."
"She feels very proud, very happy for my accomplishment," Kevin Parra said.
Princess Thurman of Linden, a summa cum laude graduate in criminal justice who plans to go to law school, also said it was not easy to earn honors, especially during the pandemic.
"It feels good to challenge yourself and be the best you can be," she said.
Cousins Rojeh Saad and Sara Morgan, of Bayonne, both graduated with honors from Kean's NJCSTM biology program, Saad earning his degree cum laude and Morgan, summa cum laude. Both plan to go to medical school. 
Joining them at the Convocation was Morgan's sister, Ayten Sergios, who graduated with honors from Kean in 2019 and is in medical school now.
"I want to thank the STEM program," said a jubilant Saad, as the three prepared to head off to celebrate with other family members. "It's been an honor to go here."
Students graduating cum laude achieved a cumulative average between 3.45-3.64. Magna cum laude graduates achieved a cumulative average between 3.65-3.84, and summa cum laude graduates achieved a cumulative average of 3.85 or higher.
Kean University's Undergraduate Commencement will be held Thursday, May 19 at the Prudential Center in Newark. Graduate Commencement, for students earning advanced degrees, will be held Tuesday, May 17 at the New Jersey Performing Arts Center in Newark.
Tagged