Kean Grad Serves for Success in Tennis World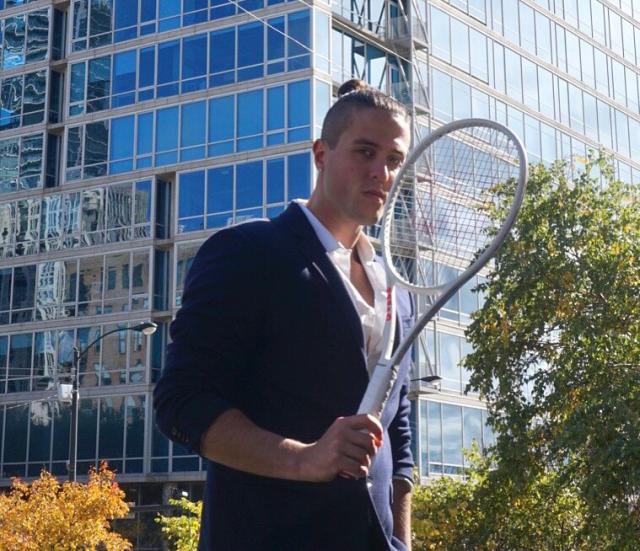 Kean alumnus Emir Hamzic '20, a national collegiate tennis champion, is now putting his athletic skills to work becoming a leader in the tennis coaching world.
Hamzic, who is 23, received a bachelor's degree in exercise science after transferring to Kean from Brookdale Community College. An All-American National Champion who had an undefeated season at Brookdale, he had offers from Division 1 schools to continue playing college tennis. 
Instead, he chose to attend Kean and combine his entrepreneurial drive with his tennis experience to pursue a goal of coaching, and one day, owning his own club.
"I had to be very honest with myself. I knew I would have to figure out what I wanted to do after tennis anyway, so I made that decision early on," Hamzic said.
He is now the director of an elite tennis program at Lakeshore Sport & Fitness in Chicago. He also has his own training company, HAMZIC All-American Training Company.
"Getting my degree in exercise science from Kean has given me a strong academic background, which helped me specialize in specific physiological demands of tennis players," he said.
Hamzic is originally from New Jersey. His parents are Serbian, and he has dual citizenship and speaks Serbian fluently.
The 6-foot-3 right-hander said he first wanted to become a professional basketball player but switched to tennis because "the only person I could blame for losing was myself.
"I loved how everything depended on me," he said. "I knew whatever sport I stuck with, I was going to be a professional."
Known on the court for a powerful serve, he competed professionally but said he stepped away because he knew he wasn't going to be a top 100 player.
While top-echelon players earn big salaries, he said, the expenses of playing professional tennis are high — coaching, travel, equipment, etc. — and only the top 150 players break even.
"I am an aggressive entrepreneur. I'm working so hard now because one day I would like to own my own tennis club and be my own boss," he said. "I will transition into the business world using tennis as a means of communication.
"My goal is to help as many players as I can play at the collegiate level, professionally, or like myself, to become an All-American National Champion," he added.
At Kean, one of Hamzic's instructors was Lecturer Victoria Baxter, who taught him personal fitness and other courses. She said he has a passion for the field. 
"Emir is ambitious and has a personality that will definitely take him far in his career goals," she said. "I love to see students apply the knowledge and skills they learned here at Kean towards their career."
Hamzic has worked alongside legendary tennis coach Nick Bollettieri, who coached Andre Agassi and many other top players. 
He also has a strong work ethic and is a sought-after instructor who  coaches as many as 72 hours per week.
The one thing he doesn't get to do now is play much tennis himself.
"I don't have time, unfortunately, because I am on the court 14 hours a day," he said. "I miss competing very much. It's something I still think about since I am so young. In the future, I would like to get back out there and play — as a fun hobby this time around."