Kean Graduate Creates Fitness Program for People with Disabilities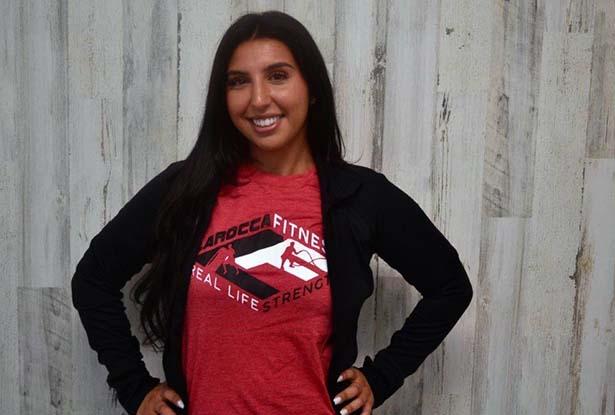 Nina Romano believes that fitness is for everyone, and she's determined to prove it. 
Through Uniquely Fit, the program she launched at LaRocca Fitness in Staten Island, Romano helps people with physical or mental disabilities to maintain and improve their fitness. The 2019 Kean University graduate, who holds a degree in recreational therapy, started the program in September 2021 to foster inclusivity at the year-old gym, which serves clients of all abilities.
"It's really rewarding to help clients know that they can have a fitness goal and achieve it," she said. "I love to see the smiles on their faces if they do something they've never done before, like lifting weights."
Romano launched the program with her friend Rob LaRocca, owner of LaRocca Fitness, not only because she saw so many people giving in to inactivity due to the COVID-19 pandemic, but because she has observed that those with disabilities can find the environment in a traditional gym daunting, particularly if the experience is new to them.
"That can be intimidating for anyone," she said, "especially if you have trainers who aren't properly equipped to help someone based on their individual needs."
In addition to offering all the equipment found in a traditional gym, LaRocca Fitness is fully accessible under the Americans with Disabilities Act, and its trainers are prepared to help a diverse population of clients, including those who have physical or cognitive disabilities and those who do not. Each fitness coach has earned a personal training license and holds certifications from the Adaptive Training Academy and Special Strong.
"All the courses go through how to work with people with different sorts of impairments or disabilities and what muscles are proper to work — for instance, if somebody has tightness in their hamstring due to low muscle tone," Romano said.
Beyond that, Romano brings something essential to the program, LaRocca said.
"Nina's expertise in working with different populations is amazing and something that other fitness professionals, including myself, don't possess," he said. "She thought it would be great to combine her occupational therapy and recreational therapy knowledge with my fitness knowledge to create the best fitness experience this area has ever seen."
Creating an environment in which clients across a range of abilities work out side by side has sparked an outpouring of positivity, Romano said.
"It's good to be able to see that there are all different types of people in this world, that everybody is capable of the goal of fitness, and that everyone has the right to achieve that goal and want to feel motivated to do it," she said. "People just think it's a great idea."
Passionate about fitness as a motivator, Romano chose to study recreational therapy because she knew it would allow her to work with clients even before she earned a master's degree in occupational therapy, which she currently is pursuing.
During her undergraduate days at Kean, Romano got her first experiences with patients at A Very Special Place in Staten Island, whose mission is to empower people with intellectual and developmental disabilities to live their lives to the fullest. Later, she worked as a recreational therapist at Staten Island University Hospital, Ocean Breeze, aiding those who had experienced strokes, dementia, brain injuries or other neurological impairments.
Looking back, Romano credits Kean's faculty and their consistent encouragement with "helping me get to the place that I am as a therapist today."
She also recalls the university as the place where she learned to appreciate diversity and inclusivity. 
"You have a variety of people that you meet from all different backgrounds," she said. "It makes you more culturally competent."