Kean Ocean Graduate Is Dedicated to Helping Victims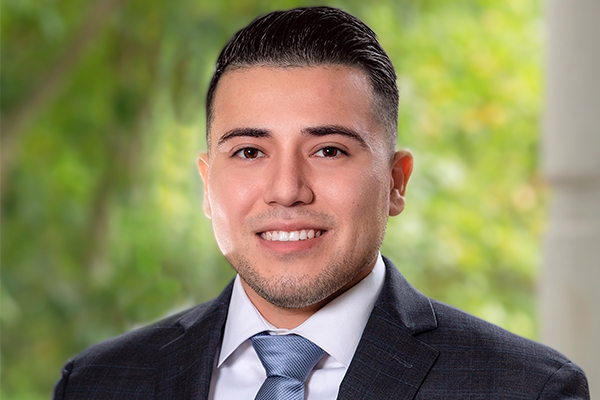 Eduardo Sotomayor grew up with several relatives who are attorneys, both in America and in his native Peru. But it was the immigration attorneys who helped his family settle in the United States who inspired him to pursue a career in law.
"I observed how they helped people and the joy that could come from helping out in a difficult situation," the Kean alumnus said.
Sotomayor, who graduated from Kean Ocean with a bachelor of arts degree in criminal justice in 2017, is now an attorney in New Jersey and New York. His work focuses on litigation, often against large companies, involving the impact of asbestos exposure on workers and their families.
"I give people a voice by explaining that this is their chance to tell their story and find justice," he said.
Sotomayor earned his law degree from Maurice A. Dean School of Law at Hofstra University in 2020 after graduating from Kean Ocean. He is an associate attorney with the firm Weitz & Luxenberg in Cherry Hill. He also interned for the firm as a law student.
Prior to joining the firm, he spent two years with the Nassau County District Attorney's Office in New York, where he prosecuted people accused of sexual and/or violent crimes.
Sotomayor dispenses not only legal counsel but emotional support to clients. He said he's found that getting to know the people he's representing – visiting them at home, looking through family photo albums and speaking with them in Spanish if that's their first language – helps them open up about what they've been through.
Anna Acquafredda, Esq., former bureau chief of the Nassau County District Attorney's Office, described Sotomayor as "an excellent attorney" and "dedicated to his work and the pursuit of justice.
"Eduardo is truly an optimist, eager to tackle any challenge. He will be highly successful in all that he does," she said.
Sotomayor began his education with an associate degree in criminal justice from Ocean County College. He said he chose Kean Ocean for its ability to smooth his transition into a four-year program as well as its affordability and reputation. 
He has kept in touch with his Kean University advisor, Fernando Linhares, who encouraged him to pursue a law career. He said Linhares, an attorney, former municipal court judge and lecturer in the College of Business and Public Management, urged Sotomayor not to simply accept answers from clients but learn more by asking, "What else?"
Sotomayor gives back to Kean by speaking to criminal justice majors about what to expect as a law student and attorney.
"Eduardo has consistently demonstrated exemplary moral character in all his endeavors and a willingness to help others," Linhares said. "He has been an invaluable asset in mentoring my current students in the law school transition phase."
Sotomayor also helps law students with mock interviews and resumes through Hofstra, and serves as a mock trial coach at middle and high schools through the New Jersey State Bar Association.
His advice to students is "try to envision yourself where you will be in a couple of years and not give up." 
"You don't have to be the smartest person in the room, but at least try to be the hardest-working person," he said. "You can do a lot if you have that kind of mindset."
Tagged