Kean STEM Graduate Helps Scientists Bring Discoveries to Light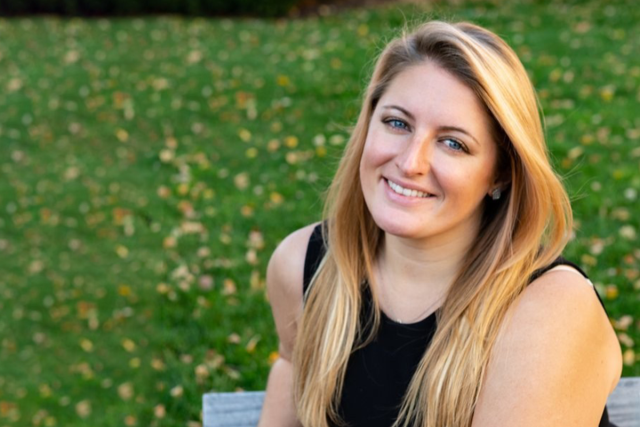 Kelly Bachovchin, Ph.D., uses her skills as a doctor of organic chemistry every day — but not in a lab.
As a customer engagement scientist at Collaborative Drug Discovery (CDD) Vault in Boston, the graduate of Kean and Northeastern universities helps scientists file preclinical research data in an "electronic lab notebook," helping to organize it for use as needed in patent filings, new drug applications or clinical trials.
Bachovchin '13, '14 M.S., teaches clients to use the platform and troubleshoots when questions arise. She enjoys speaking with scientists about their work and using her knowledge to counsel them.
"Customers will ask, 'Which stereoisomer needs to go here?'" she said, referring to molecules with the same chemical makeup but different atomic arrangements. "If you don't know what that is, you can't help them."
At Kean, Bachovchin earned her Bachelor of Science degree in molecular biology, cum laude, and her Master of Science in biotechnology.
She went to Northeastern for her doctorate. She was working in a lab there following graduation, but it faced shutdown when the COVID-19 pandemic hit. Familiar with CDD Vault from her days as a student researcher, she was excited to find a position there.
Although her work offers more socialization than Bachovchin experienced in labs, it's fully remote. So she balances quiet workdays with nights teaching salsa dancing, an art she learned after moving to Boston from Piscataway.
At Northeastern, she studied neglected parasitic tropical diseases, including African sleeping sickness, Chagas disease, and Leishmaniasis. She was also a graduate teaching assistant, which helped prepare her for her current job.
"It involved re-learning information I didn't remember from my general chemistry classes and teaching it to people," she said. "That's what I do every day now — I learn about people's research, then teach them how to log it into our platform."
Lori Ferrins, Ph.D., a research associate professor in Northeastern's Neglected Diseases Laboratory, remembers Bachovchin as a promising student.
"Kelly showed a keen interest in looking at data and finding interesting ways to present it in the context of her research program. Her enthusiasm meant it was no surprise when she joined Collaborative Drug Discovery as an application scientist," Ferrins said.
Bachovchin said her classwork and research experiences at Kean inspired her doctoral studies. She was intrigued by her organic chemistry class, where one lab focused on distilling alcohol, and a biotechnology class that involved genetically modifying plants.
"One of my favorite classes was a medicinal chemistry class with Dr. James Merritt," she said. "That was where I realized, 'This is what I want to do.'"
She conducted drug-discovery research in Merritt's lab, and he helped connect her with Northeastern as a choice for graduate school.
A member of the Lambda Alpha Sigma and Chi Alpha Sigma honor societies, Bachovchin was named graduate research student of the year and scholar-athlete of the year at Kean. She played both field hockey and lacrosse.
She was also recognized by the New Jersey State Assembly as a woman in the sciences.
Bachovchin said she chose Kean because of its five-year combined bachelor's/master's program and recommendations from alumni, including her older sister. She was also excited about joining the athletic teams — which, she said, "played a big role in keeping me focused."
For current STEM students, she recommends seeking out related internships and work.
"Sometimes I wish I had gone into industry before going to graduate school," Bachovchin said. "The research I did was helpful, but it's a good idea to spend time in the real world before you make big decisions."
Tagged