Kean Student Helps People Young and Old Explore a Bug's Life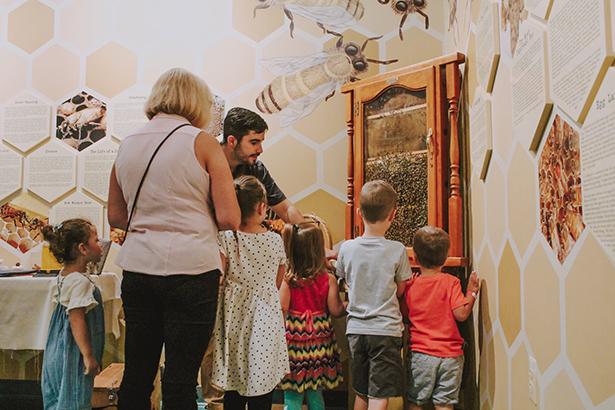 Making people squirm is part of Kean Ocean biology student Mario Cunha's off-campus job.
He is an outreach educator at the insect museum Insectropolis in Toms River. Cunha takes the "bugseum" on tour to schools, libraries, museums and other sites around the state, hosting presentations.
"I bring a variety of pinned specimens — insects, arachnids and myriapods, along with live specimens that are touchable by the audience," Cunha said. 
For the uninitiated, that means Cunha encourages school children and other audiences to pet bugs, spiders, millipedes and other creepy-crawlies.
Cunha, a senior from Toms River, credits his classes at Kean, such as zoology, ecology and botany, for increasing his knowledge of biological concepts and relationships, and preparing him to educate people about bugs.
"Mario is knowledgeable and has enthusiasm for biology, especially insects, that shines through whenever you talk to him," said Kean Ocean biology lecturer Nancy LaFleur, Ph.D. "I am sure Mario's experiences at Insectropolis will help him with his goal of becoming a biology teacher, as he is able to share information in very engaging ways."
When asked which bugs creep people out the most, Cunha gives that award to spiders. But while he said spiders generate the most fear of all the bugs he presents, he said that fear is completely unfounded.
"No one has ever died from a tarantula bite," he said, adding that his favorite on-the-job moment is to see someone smile after petting a tarantula for the first time.
According to Cunha, the insect that people should be concerned about is the spotted lanternfly. The insect has no natural predators and can feed on and destroy over 70 different plant species, including important agricultural plants like apples, peaches and grapes, he said. 
Cunha hopes to put all of his "hands-on" experience at Insectropolis to work after getting his bachelor's degree in biology from Kean with dual certification as a K-12 educator and teacher of students with disabilities. He intends to teach high school biology.