Kean Ocean Grad Helps Build a 'Field of Dreams' for Special Needs Children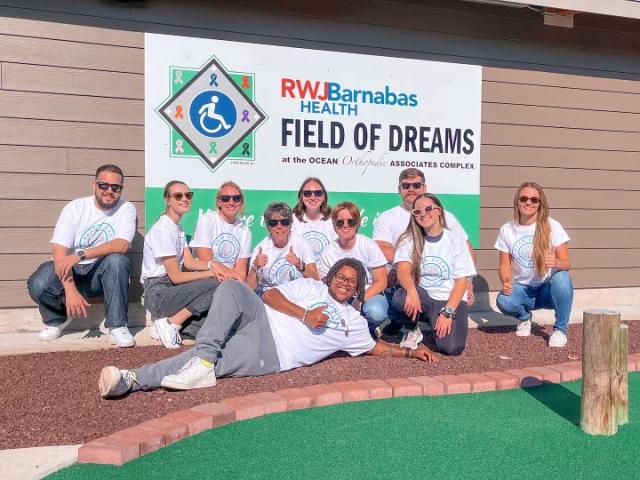 To Kean Ocean graduate Brielle Mowad, developing the Field of Dreams inclusive playground in Toms River was a labor of love.
Mowad, who graduated summa cum laude in January and will walk at Kean's Undergraduate Commencement on Thursday, May 18, was inspired by her younger brother, Gavin Kane, now 12, who experienced a severe traumatic brain injury as a toddler.
She and her family, with the help of volunteers from Kean Ocean and others, created the complex, which includes an expansive and accessible playground, a baseball field, a basketball and bocce court, a walking path and much more. 
"I still get overwhelmed with emotion when I see all of the people enjoying the park," Mowad said, who studied forensic psychology at Kean. "Before we opened, many of these families had nowhere to go."
Mowad's stepfather, Christian Kane, began planning the inclusive park in 2017 to provide Gavin with a place to play baseball close to home. As the family shared their story, the idea took off. Toms River donated the land, and the State of New Jersey earmarked funding toward construction. Gov. Phil Murphy paid a visit to the site. With the support of a prime sponsor, the park's name became RWJ Barnabas Health Field of Dreams. 
Mowad and her former Kean Ocean Psychology Club co-president Jacquelyn Machat of Brick, who also graduated summa cum laude in January, led fundraisers and recruited volunteers for the playground, which opened in April 2022.
"It was incredible to share something so personal and important to me with my friends from Kean Ocean," said Mowad, of Toms River. 
Other Kean Ocean organizations, faculty and students supported Mowad's work and the park, too.
"Brielle is a natural leader, who leads for others and not herself," said Jane C. O'Brien, Ph.D., Kean Ocean coordinator and advisor of the School of Psychology.  
Assistant Professor Alexandra Stribing, Ph.D., of the School of Health and Human Performance, along with students, ran a basketball class for children with disabilities. Students enrolled in Professor Linda Attanasio's special education class developed a program guide to the park. 
Kane, who is now the park's executive director, said he is "forever grateful" for the University's support. 
"I believe our partnership will continue to grow as the complex continues to assist more special needs families," he said.
This summer, Mowad will work full-time at the park. In the past, she managed social media and the website, and created a program for local high school students to do community service there. She ultimately plans to go to law school, focusing on special education and family law. 
Mowad said she chose Kean Ocean after graduating from Ocean County College because she did not want to leave her family – and its work on Field of Dreams.
"I was able to challenge myself in my studies, work alongside wonderful professors and be involved in the community, while still getting to watch my little siblings grow up and stay involved with Field of Dreams," she said. "Kean Ocean had everything I was looking for, without needing to leave home."
Located at 1505 N. Bay Avenue in Toms River, RWJ Barnabas Health Field of Dreams is a private complex for special needs families, who can apply for membership at no cost. To learn more or apply, visit rwjbhfieldofdreams.com.