Kean Ocean Graduate Earns Degree While on Active Military Duty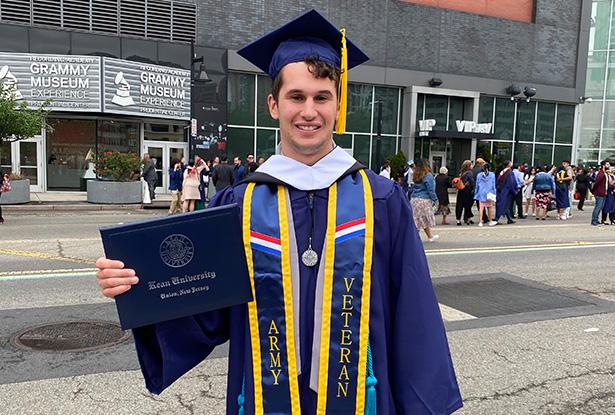 Kean Ocean graduate Joseph Fuca '22 had his sights set on two very different career dreams, to become a teacher and to serve his country in the military.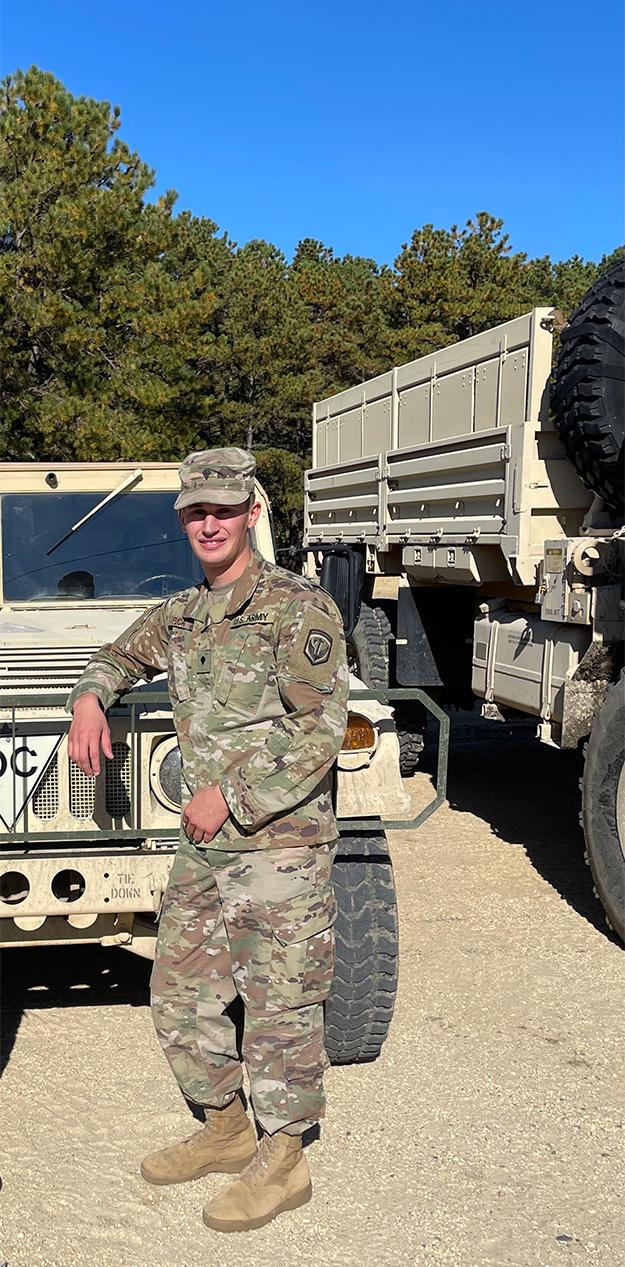 During college, the Toms River man accomplished both goals. Fuca graduated summa cum laude at Kean's Undergraduate Commencement last week, and he is serving as an active member of the Army National Guard.
"Becoming a history teacher or a special education teacher was something I wanted to do, but at the same time, I wanted to experience the military and be able to serve," he said. "It's just a win-win situation."
Fuca said he earned "amazing benefits" from the military, namely, free college. He also found he was able to use skills learned at Kean, where he earned a degree in history, K-12 education and special education, in the military and vice-versa.
Both roles require people management skills, he said, and as a specialist in the Army National Guard's finance division, he has had to lecture soldiers on topics such as retirement accounts. 
"It pretty much was exactly what I'll do in the classroom," he said, "They both go hand in hand."
Fuca's college path began with a year at Ocean County College. Following that, he took a gap year and entered the Army National Guard for six months of training in South Carolina. Then he returned for his final year at OCC, and finished his education at Kean Ocean, while serving simultaneously as an active member of the National Guard.
Throughout his college education, Fuca has trained on the weekends, and at times, during the school week. In April 2020, at the start of the COVID-19 pandemic, he was assigned to work in a nursing home in Edison for a month.
"I saw on the news that the Commissioner of Health requested National Guard soldiers to work in nursing homes, and Governor Murphy approved it. I got a phone call two hours later," he said. His duties included helping in the nursing home kitchen, assisting residents with walking and other tasks, and taking patients' temperatures.
"I wasn't scared," he said. "They needed our help."
Fuca said he needed help from his Kean Ocean professors to handle the times that active service kept him out of class.
"My professors were really amazing," he said. "They really worked with me. It was difficult at times. When I came back from training for a week, I had to make up all the work I missed and get back on track. But it always worked out in the end."
Fuca was a student teacher for two semesters at Toms River High School East. Kean lecturer Daun T. Ward, Ed.D., Fuca's clinical faculty supervisor, said he "clearly demonstrated the dispositions of an effective educator." 
"I was so impressed by his ability to manage his time effectively and meet the demands of all of his responsibilities in both school and the armed forces," Ward said. "He was a role model for his high school students as he not only was their history teacher, he also volunteered to work with the school's military program and created several after-school events for the students."
Lecturer Linda Attanasio, who teaches special education at Kean Ocean, said she was impressed by Fuca as well. In addition to the experiences he brought from his work with the Army National Guard, he has a family member with Down Syndrome and was able to share insight with classmates. 
"Joseph represents the driven, hard-working, conscientious, disciplined and intelligent student that Kean seeks out. He completed most assignments ahead of the due dates and scored well above average on all of the state mandated assessments. As a classmate, students gravitated to him," she said. "He was a wonderful addition to our classes."