Kean Students Climb Higher Through Summer Research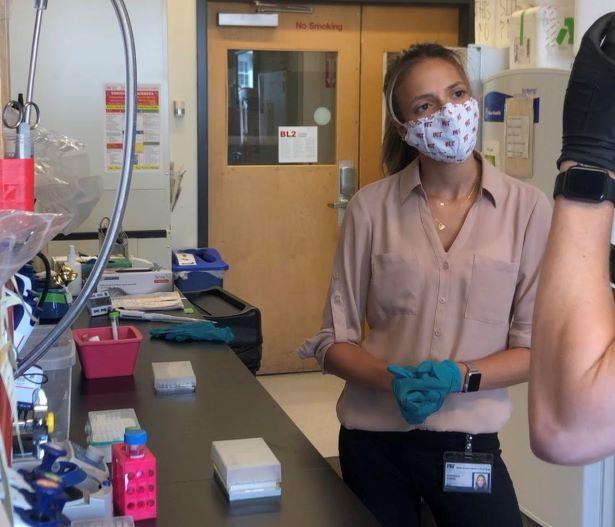 Kean senior Florencia Burian plans to pursue a doctoral degree in chemistry after spending a life-changing summer in a prestigious research program at Massachusetts Institute of Technology.
Burian, a molecular biology major from Old Bridge, was a Chemical Bonding Fellow at MIT, conducting chemistry research at the University for nine weeks. She was selected for the first year of a program that is open to students from Hispanic-Serving Institutions, such as Kean University, Historically Black Colleges and Universities, and Minority-Serving Institutions.
Her work involved comparing different sequence alignment tools for single-cell RNA-sequencing analysis. In addition to her time at MIT, Burian also presented her findings to Rice University at the Gulf Coast Undergraduate Symposium. 
"This research has already had such an impact on my future," she said. I hope that I can help and inspire others in the future that regardless of where you came from, and what you were and weren't capable of in the past, you can do it."
Burian was one of four Kean seniors who spent their summers conducting research at MIT, Princeton University and other universities. The other three – Anna Ferster, Xyler Ferraris and Neil Tellez – conducted documentary investigation and pandemic-related research. 
"Research is a key part of a Kean University education, and taking part in programs such as these allows our students to expand their learning and build their skills," said Kean University President Lamont O. Repollet, Ed.D. "As Kean pursues a designation as an R2 Carnegie research institution, we expect even more students to become involved in these kinds of powerful opportunities."
Ferster, a communication/media and film major from Marlton, interned with Aspiring Scholars and Professionals at Princeton University, a selective program created to support students from underrepresented communities and backgrounds. 
She worked on a documentary investigation called The Trenton Project, editing transcripts of video and audio interviews. The documentary investigates the April 1968 shooting of Harlan Joseph, a young Black college student, by Trenton police. 
Ferster said the experience broadened her perspective on career paths. 
"Before this, I only looked at strictly media production-related careers," she said. "But now I see I can venture into more research-inclined careers as well."
Ferraris, a computer science major from Port Reading, and Tellez, a computer science major from Linden, both participated in the Consortium of Scientists for Pandemic Preparedness (CSPP) Summer Scholars Program, which involves both MIT and Rutgers University. Ferraris' research focused on data analysis, while Tellez's was based on viral escape, which he defines as a virus' ability to mutate and evade the immune system. 
Ferraris used machine learning technology and data analysis to research which drugs are effective against malaria but nontoxic towards the liver. He said the virtual internship gave him insight on research.
"The true finding was that there is much more to discover and to test and work on in the field of machine learning and how it can benefit our preparedness for pandemics to come," he said.
Tellez said he also got invaluable experience to take to his future career. 
"This research experience will help open new doors as an undergrad looking to go into machine learning or the data science field," he said.
Kean Senior Vice President for Research Jeffrey H. Toney, Ph.D., said all four students came away with valuable experiences.
"Each of these programs provides our students an opportunity to work with some of the very best scholars and professionals in their field," he said. "This experience will open up many opportunities, including pursuing graduate studies at these institutions and exciting future careers."
To learn more about research and career opportunities outside the classroom, visit Kean's Career Services Office.
Tagged