Kean's 'Meteor Mike' Wins Emmy Award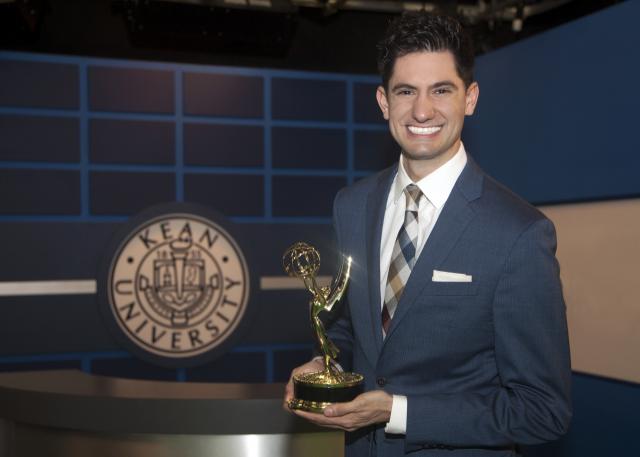 Kean alumnus and adjunct professor Mike Rizzo, better known as television meteorologist @Meteor_Mike, is now an Emmy Award winner.
Rizzo, '14, '16 M.A., received a New York Emmy last weekend for his work as a weather anchor at News 12 The Bronx and News 12 Brooklyn.
"It's honestly unreal. I can't believe I won," said Rizzo, 27, adding he was doubtful when his boss suggested he even apply for the award. "When they got to my category, boy was I nervous. When my name was called, it was shocking. I screamed; my parents screamed; my girlfriend screamed; even my boss screamed in joy!"
Rizzo, who lives on Staten Island, received his Bachelor of Science degree in earth science/meteorology and then his Master of Arts in communication, both from Kean. Some of his earliest on-air work came in "Keancast," a Kean TV production back in his student days. While at Kean, he also held internships both at News 12 and at WCBS-TV.
"I interned at the place I work full time now, for the position I shadowed under," he said.
He said internships taught him things such as how to ad lib, how to tell weather news like a story, and what to wear on TV. "You can't just go to school, graduate and say, 'I'm going to get a job,'" he said. "You have to know what that job is all about."
Rizzo now does daily weathercasts at 5 a.m. through 9 a.m. and noon, arriving at 4 a.m. to do weather forecasting and create maps and graphics for broadcast. He also does social media, visits schools for science experiments and events, and does live weather spots.
Paul J. Croft, Ph.D., Kean Associate Vice President for Academic Affairs, was a mentor to Rizzo when he was a student.
"It's always a pleasure to watch as our students become consummate professionals in the years following their graduation, especially when they have such key achievements," Croft said.  "For Kean, Mike's success is a testament to what it takes to grow a professional."
After winning the familiar gold-toned statuette at a Manhattan awards dinner, Rizzo said he will celebrate -- let it sink in -- and keep doing his job. As for the Emmy itself, he said it will travel with him until everyone he is close to has an opportunity to see and touch it. After that -- "it's likely going to sit in my office at News 12 in the Bronx."
"I really love my job and I really love the communities that I deliver the weather forecasts to. It's just amazing," he said.
Rizzo's advice to other Kean students is, if you have a dream, never give up on it. "I never gave up, and I didn't listen to anyone who tried to discourage me," he said.
"It's important to be realistic and acknowledge the situation around you," Rizzo added. "It may seem difficult or impossible, but this is why short-term goals and a focus on learning and growth are important. Working in television can be cutthroat, competitive, downright nasty and emotional. But I choose not to compete with anyone but myself. I am only trying to make myself better than yesterday's self."
To see more of Meteor Mike's work:
News 12 The Bronx: bronx.news12.com
News 12 Brooklyn: brooklyn.news12.com
On Instagram: https://www.instagram.com/meteor_mike/
On Facebook: Fb.com/MikeRizzoWeather
Tagged