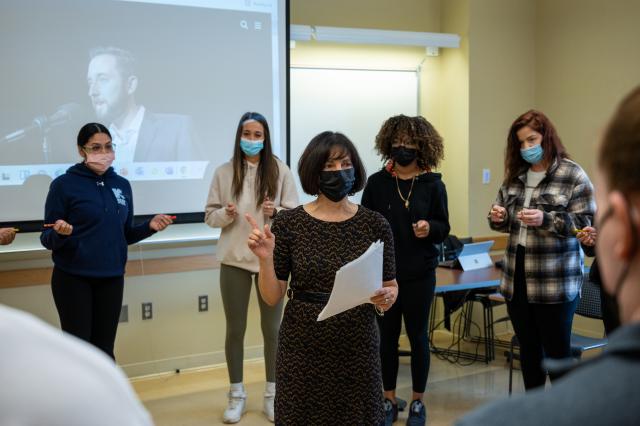 To be a better speaker, first learn to be a better listener.
Kean Adjunct Professor Sandra Bodin-Lerner, a professional communication coach who trains people in public speaking, shares that message with Kean students through the University's Communication and Listening class.
"People perceive their communication issues to be about speaking, but it turns out most people's issues are usually centered around listening," Bodin-Lerner said.
"Students take the class because they recognize how important it will be to their careers, and once they're there, they apply listening skills to their interpersonal relationships. They really find it's life-changing."
The class is offered by the School of Communication, Media and Journalism. 
Bodin-Lerner said research shows that businesses have lost money because of mistakes and errors due to poor listening or because clients don't feel understood or heard.
Listening impacts all relationships – professional, familial, social, public and romantic, she said, and poor listening is a major, if not main, reason for poor work performance and romantic dissatisfaction.
"We must choose to listen – it is not automatic," said Bodin-Lerner, who is a member of the board of the International Listening Association, and received the Association's Outstanding Educator award in 2018.
"Most of us think that we are better listeners than we actually are," she added.
In class, students learn to avoid listening pitfalls – such as interrupting others, multitasking while listening, losing focus, and offering unsolicited advice. One key piece of advice: Talk less, listen more.
"If you're not tapped into your audience, you won't be able to shape whatever you're talking about," Bodin-Lerner said.
Students hold practice conversations with "people who are difficult to listen to," and take part in a storytelling session, learning to communicate in ways that enable others to listen to them.
If the class requests, Bodin-Lerner also invites students to bring loved ones to a "Friends and Family" class to share the message with them.
Bodin-Lerner said her students come from all majors, and the listening course "applies to everyone."
Kean alumnus Karen Boyle '21, of Mountainside, who now works in public relations, said the class was "an eye-opening experience."
"I believe listening is a skill you will constantly work on and can never truly perfect," she said. "What I learned is not only of value in the working world but also changes my daily approach in life." 
Kean School of Communication, Media and Journalism Executive Director Jeremiah Sullivan said listening is a valuable skill for students to learn. "Good communication skills are sought after by most of today's employers," he said. "That includes the ability to listen effectively."
Bodin-Lerner's students are also taking part in Kean's new Engaging in Difficult Conversations: Diversity, Equity and Inclusion Facilitator Certification. The program, featuring a series of lectures, certifies students to lead conversations on challenging topics such as race, gender, equity and more.
Sullivan said the listening students "could be among the most prepared of all participants" to do so.
"These conversations are 'difficult' because they are all about the ability to listen to complex conversations that may trigger emotions and comments," he said. "This takes training."
Kean graduate Malcolm Evans '15, '17 M.A., now a doctoral student studying interpersonal communication at Louisiana State University, said the Communication and Listening class inspired his career.
"My teaching is directly impacted by what I learned in the course," he said. "We should all be good listeners and help others to do the same."
Tagged